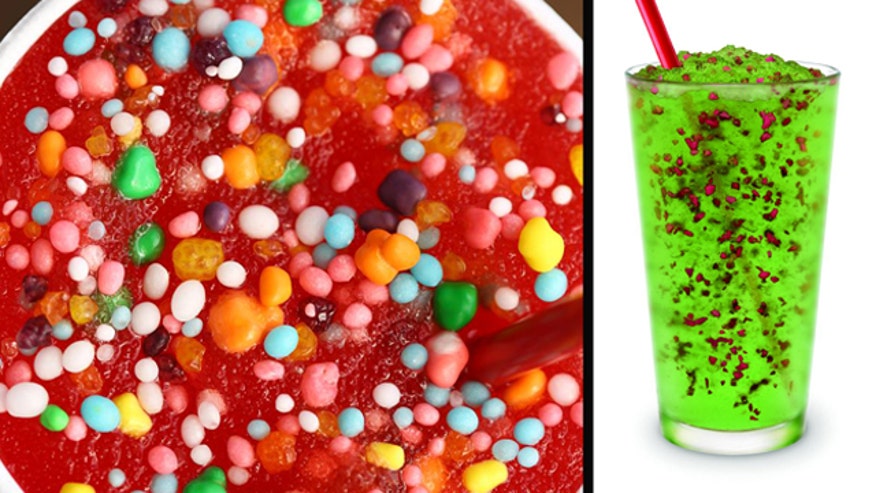 If you've got a real insatiable sweet tooth, Sonic has the summer treat you've been waiting for.
Now customers of the drive-in chain can order Slushes with crushed up pieces of Jolly Rancher or tiny popping candy, similar to Pop Rocks. This follows last year's success of Slushes with Nerds candies.
"Last year we rolled out our first line of Candy Slushes made with NERDS candies and the consumer response was tremendous," Sonic's chief marketing officer Todd Smith told FoxNews.com via email. "Even after the summer promotion ended, sales levels for the candy Slushes sustained at about 50 percent of summer levels."
Adding candy to an already sugary drink—a small cherry Slush contains 49 grams of sugar, about the same as a tall Caramel Frappuccino from Starbucks-- might seem like overkill, as well as going against the trend for fast chains trying to appeal to more health conscious consumers. But for Sonic, the new offering is about appealing to the brands' new favorite consumers: the ever-hard-to-please millennial.
"Millennials love to mix and match their own unlikely food, drink and flavor combinations. Adding iconic candies to our signature Slushes gives them the ability to get really creative with their orders and they have a lot fun with it," Smith explains.
Sonic customers can mix and match candy or flavor options to make over 1.3 million unique drink combinations. Sure, that's a lot of choice but how do they actually taste?
Our tasters were divided right down the middle.
For those who generally love sweet, fruity things, the Slushes are a home run. We loved the Game Changer, Kevin Durant's signature Slush made with an icy berry lemonade, strawberries and Nerds rainbow candy. We added some popping candy, similar to Pop Rocks, to the mix for a fun mouth feel, which added a pretty loud popping sound.
Classic grape was also popular—especially with crushed up pieces of Jolly Ranchers.
"I like that I can chew and slurp at same time," one taster said.
But for those who avoid all things remotely artificial tasting, these drinks were just too much on all fronts.
The Watermelon and Blue Coconut flavors overwhelmed many of our tasters—with one citing the former as being insanely sweet and tasting like "really, really good cough syrup." Ok, so not a hit.
And if you're worried about choking, don't be. None of our tasters had any issues with the candy add-ins and Sonic assures us that the pieces are crushed up to size okay for slurping or chewing.