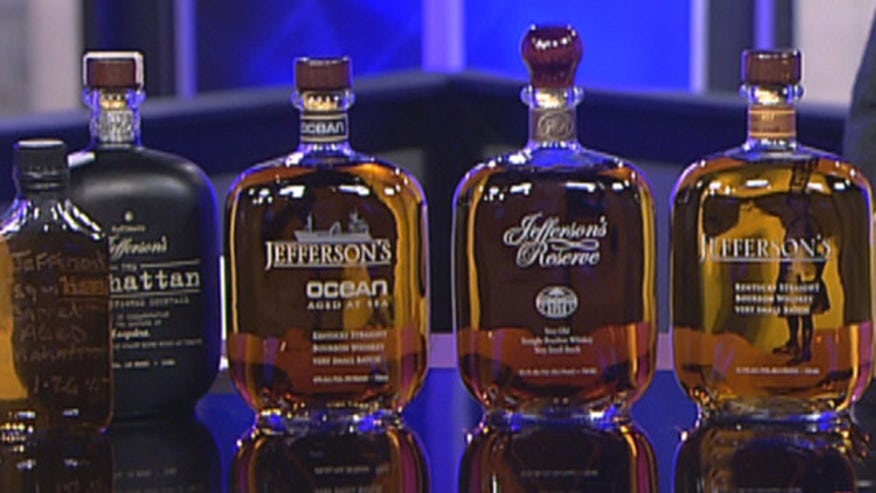 When you imagine the process of aging bourbon, you picture oak barrels piled high in a Kentucky warehouse.
But one bourbon maker claims that exceptional whiskey needs to see more of the world.
"I can tell a difference between each voyage."
Jefferson's makes a small batch bourbon called Ocean that takes an extended cruise in the underbelly of a ship before bottling even begins.
The great experiment began when Jefferson's Master Blender Trey Zoeller convinced pal Chris Fischer, of National Geographic Channel's "Shark Men," to take five barrels of bourbon on board as he sailed the world's oceans tagging sharks.
Zoeller's theory was that the rocking and swaying of the ship would allow the bourbon to have continuous contact with the wood, thus enhancing its flavor.
The barrels went untouched for three years until finally Zoeller came to collect. The remaining three barrels - two had become corroded and burst at sea - yielded a bourbon unlike anything Zoeller had ever seen: a thick, almost black substance the bourbon expert called "liquid gold."
Zoeller said the hot temperatures the barrels endured as the ship made multiple passes across the equator prompted a caramelizing inside the barrels. That, plus the salt air infusing through the wood, have given the bourbon a flavor one critic compared to "salted caramel popcorn."
Zoeller has since honed the process, now sending six-year-old Kentucky bourbon out to sea for six month periods. I tasted a batch off the fourth voyage at a Jefferson's Bourbon event at the NYLO Hotel in New York City on Saturday. The color is now much lighter than the initial experiment, but still carries hints of salt and caramel. It was by far the fan favorite of the night.
"I can tell a difference between each voyage," Zoeller said.
Zoeller doesn't believe he's doing anything new and ground-breaking, but rather going back to "how it was originally done," when Kentucky distilleries would float barrels from the Ohio River all the way to New Orleans.