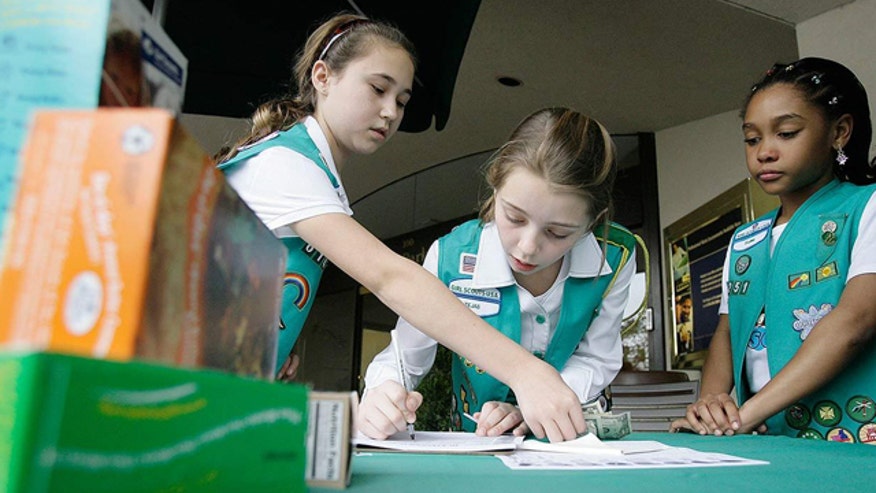 The Girl Scouts are now rolling out three new cookies that cater to popular food trends.
Rah-Rah Raisins are oatmeal cookies with raisins and "Greek yogurt flavored chunks," Toffee-tastic are buttery shortbread cookies with little toffee bits, and Trios oatmeal-peanut butter cookies with chocolate chips.
The decision to go gluten free was an important one for Girl Scouts.
"We really listened to our customer and try to follow larger food trends so that's a big reason for the Greek yogurt in our new raisin cookie," Kelly Parisi, chief communications executive told FoxNews.com. "We were also hearing more from our girls who have Celiac's or whose families were going gluten free. They love selling cookies but wanted to be able to enjoy them, too."
Rah-Rah Raisin and Toffee-tastic took two years for baking partner Little Brownie Bakers to develop. After a successful taste test last summer, Parisi says the girls were ecstatic to be able to offer more variety to their customers.
"A lot of people don't realize the money from cookie sales funds girls social activism, so it's often being reinvested in the communities they live in," Parisi said. Troops have used money to make backpacks for children in need, or even fund international humanitarian trips.
So will the new cookies be instant classics?
We tried all three of the new Girl Scouts cookies. Rah-Rah Raisin tastes like a traditional, but much crumblier oatmeal raisin cookie and we couldn't really taste the Greek yogurt. Trios are very peanut-buttery so if you're not nuts about nuts, we wouldn't recommend them. But they are pretty delicious—you can't tell they're gluten free. Our favorite newbie was the Toffee-Tastic—the cookie is really buttery and the bits of toffee provide perfect little bursts of sweetness.
If you're a diehard Tagalong fan, none of these cookies may replace your old favorite but any of these new offerings will definitely satisfy a sweet tooth.