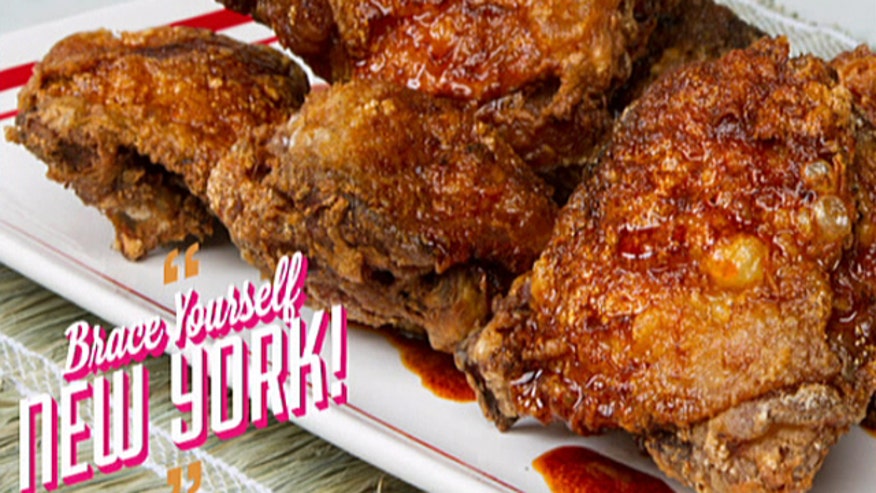 Carla Hall says that the secret to her Southern-style hot chicken is the oil.
The "Top Chef" alum and "The Chew" co-host, who recently started a Kickstarter campaign to raise money to open a Nashville-style chicken restaurant in New York City, stopped by our studios to talk about her new venture.
So what the heck is hot chicken?
"Hot chicken is typically a Southern fried chicken tossed in a hot oil," Hall told FoxNews.com about the fried chicken-style distinct to her hometown. "We make that oil with the canola oil, and then it has cayenne, smoked paprika, garlic powder and a little bit of sugar, and it goes from mildly hot to fiery hot."
The Kickstarter for Carla Hall's Southern Kitchen has raised more than $64,000 (and counting), and Hall says not to underestimate Southern food fans in New York City. After opening her Big Apple location, Hall plans to launch a second location in Washington, D.C.. She says she turned to crowdfunding to give fans a sense of ownership and community in the restaurant.
"We are going through private investors, but I thought that my fans who have asked me since I was on 'Top Chef,' 'When are you going to open a restaurant, when are you going to open a restaurant?' I announced it and I figured maybe they want to be a part of that," Hall said.
Watch the full interview with Carla Hall in the video above.