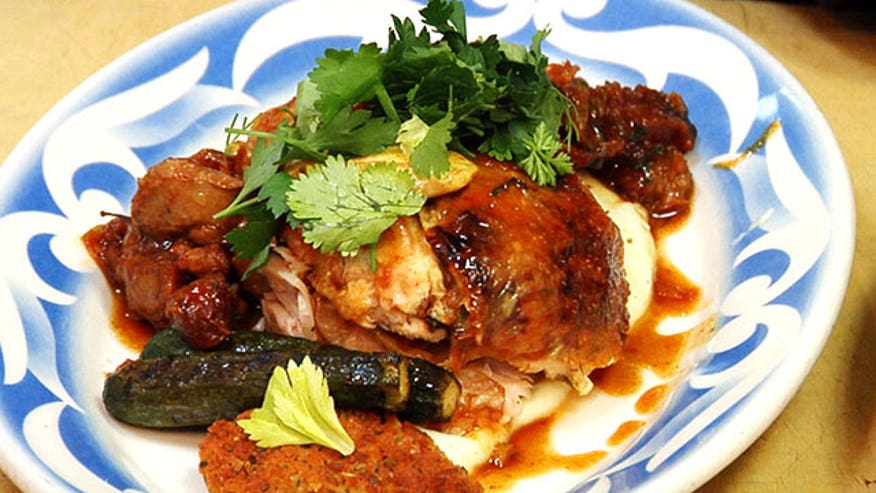 Nothing beats a plate of roasted chicken with stuffing and pureed potatoes, unless it's two plates of roasted chicken with stuffing and pureed potatoes — for you and a date, that is.
Chef Harold Moore of Commerce Restaurant is a big fan of this two-person dish, which is why he includes it on his menu at Commerce Restaurant in New York City's Greenwich Village.
Moore starts by injecting a generous amount of butter between the meat and the skin of a fresh bird, and then blasting it on high heat (500 to 550 degrees) in his oven. "This is not like in France," he says of his high-temperature roasting method. "In France, they like everything very slow on the rotisserie. This is full-power New York City cooking."
When it's done, the crispy skin will separate from the succulent breast meat, which has stayed extra moist under all that rich butter.
After removing the chicken from the pan to let it rest, Moore crisps up a few handfuls of diced bread in the rendered butter and chicken fat. He pours off the excess, then melts foie gras in its place before incorporating the crunchy stuffing back into the mix. A bit of the chicken jus, some caramelized onions and a handful of fresh herbs are tossed into the pan to finish the dish.
Finally, Moore plates his buttery bird atop a bed of pureed potatoes, alongside the foie gras stuffing and some seasonal roasted vegetables.
Watch the video above for the finer points of Moore's method, or bring a date down to Commerce Restaurant to try his chicken for yourself.