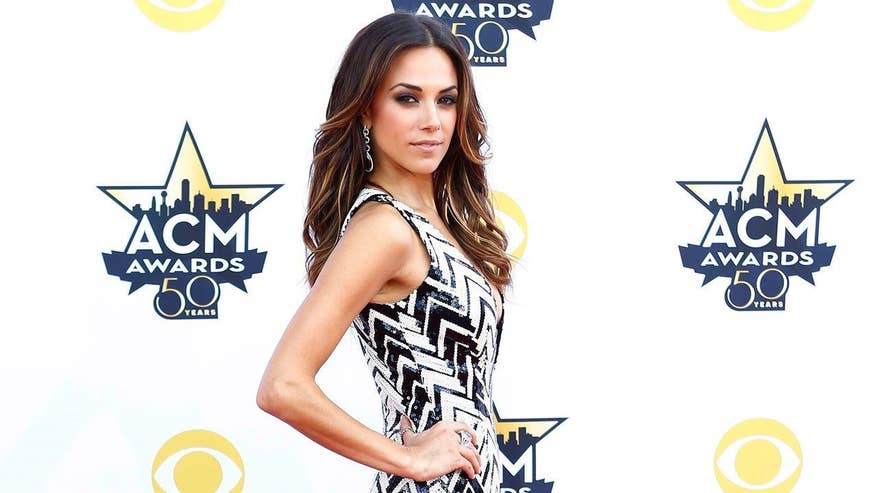 Jana Kramer has a message for those criticizing her recent trip to Discovery Cove with infant daughter Jolie Rae.
The 33-year-old country crooner previously shared an Instagram photo where she's seen swimming with a dolphin at the Orlando, Florida-based aquatic amusement park, which is owned by SeaWorld.
Criticism came pouring in from viewers, pointing out claims of aquatic mammals being reportedly kept in captivity by SeaWorld.
JANA KRAMER TEARS UP DISCUSSING EX IN REHAB
In June 2016, video footage surfaced of a SeaWorld-owned orca named Morgan lying on a concrete slab after a performance for the public. The animal allegedly stayed still and despondent for over 10 minutes, yet staff didn't appear to show concern over its unnatural behavior. Morgan is also the same whale that was filmed several months prior repeatedly banging her head against the gate of a small medical pool where she was kept.
Fans advised Kramer to watch the 2013 Netflix documentary, titled "Blackfish," which exposed the consequences of keeping orcas within captivity at SeaWorld.
While SeaWorld initially called the film "inaccurate and misleading," it did announced plans to end killer whale shows at its San Diego theme park in November 2015. Five months later, SeaWorld revealed it would end its orca breeding program, as well as phase out live performances with orcas.
FOLLOW US ON FACEBOOK FOR MORE ENTERTAINMENT NEWS
While Kramer deleted the image, she later re-uploaded it on Sunday, prompting fans to criticize her support for Discovery Cove.
"Do I feel sad that they should be in the wild, sure, but they are being loved there and they are getting fed and quite frankly I'm not going to NOT post something because I'm at the zoo or wherever I go," Kramer argued in her photo caption. "I'm simply trying to be the best mom I can be and all I wanted was to take my daughter to a place where we could have fun and she could see this beautiful well taken care of creature up close and personal by some amazing and super kind trainers."
Kramer also added that she will be back at Discovery Cove.
"I will also take Jolie to zoos, I will give her food that's not organic at times," she wrote. "I will feed her meat, whole milk, and I will have a few glasses of wine to myself at the end of the night. If any of you have a problem with how I live my day to day then I'm sorry. I'm simply doing the best I can. I will not be able to please every one of you. I do know my true fans will be there and from one mom to another we all know we are doing the best we can."