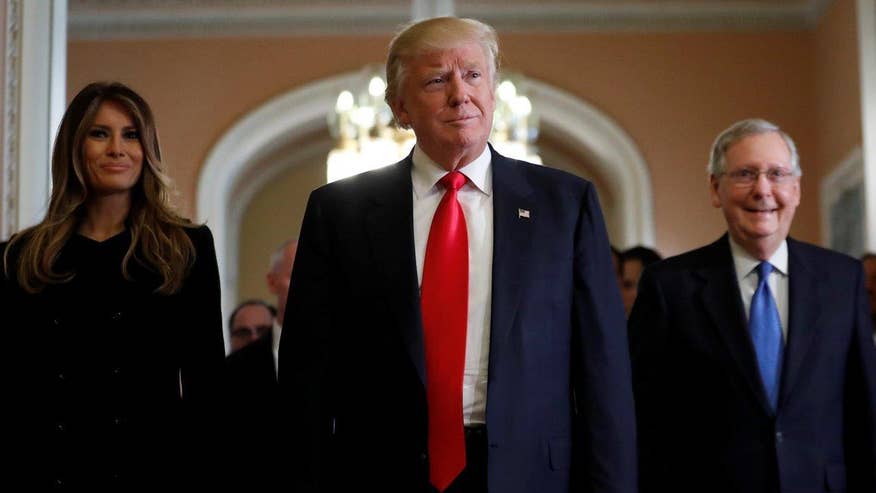 People magazine is hitting back at critics who have slammed the publication for releasing a special issue about Donald Trump and his family after it previously defended a former writer who said the president-elect forcibly kissed and groped her more than a decade ago.

"Donald Trump's win is a history-making news event that warranted the cover of the magazine," a rep for the magazine told FOX411. "The story is not a celebration or an endorsement and we continue to stand by Natasha Stoynoff, whose account of being attacked by Trump in 2005 is recounted in this week's cover story."
Stoynoff did not return FOX411's request for comment.
Campaign targeting Ivanka Trump's clothing line off-base?
Critics of the magazine's move are sounding off on social media under the hashtag #BOYCOTTPEOPLEMAGAZINE.
@people Never buying again. Thanks for caring about sexual assault victims. Please customers and celebs #boycottpeoplemagazine #Shame

— nicole Crowhurst (@NCrowhurst) November 11, 2016
#BoycottPEOPLEmagazine #PeopleMagazine just lost a reader who has been with you since edition 1. I refuse to support a FASCIST regime.

— Olivia (@TheUnrealOlivia) November 11, 2016
@MrJessCagle I can't wait to cancel my twenty-year subscription first thing tomorrow. You and People disgust me. #BoycottPeopleMagazine

— Ellen Byron (@ellenbyronla) November 11, 2016
But Dan Gainor, VP Business and Culture at the Media Research Center, defended the popular weekly.
"The left learned nothing from ridiculous amounts of media bias that led to Trump's victory. They don't want any normalcy. They expect every so-called neutral outlet to reflect the liberal agenda that Trump is somehow not a legitimate president," he said. "We saw this with Matt Lauer also, because he wasn't overly biased against Trump. Already, Americans are rejecting the news media as being biased. The left wants to encourage that view."
Some on social media agreed.
America, boycott celebs who continue to divide our great country with their criticizing comments of OUR president. #Boycottpeoplemagazine

— Wayne Guiltner (@WayneGuiltner) November 11, 2016
SiriusXM Radio personality Cristina Palumbo echoed Gainor's sentiments saying that it's part of journalism to cover newsworthy events.
"Journalists need to do their jobs by covering events and we need to let them. They have made it very clear that they stand by Natasha Stoynoff and I commend them for giving her a platform to share her story," said Palumbo.
People magazine isn't the first to get the boycott treatment this election. A group of vocal Twitter users are also calling for women to boycott Ivanka Trump's fashion line over the lewd comments about women her father, Donald Trump, said to Billy Bush in a 2005 leaked tape.
Fox News.com Reporter and FOX411 host Diana Falzone covers celebrity news and interviews some of today's top celebrities and newsmakers. You can follow her on Twitter @dianafalzone.