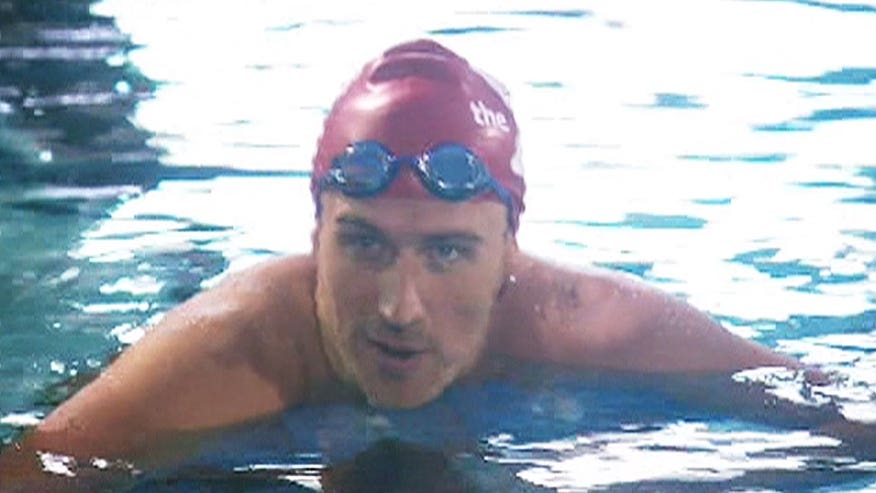 Swimmer Ryan Lochte, who faced protesters in the ballroom when he first began "Dancing with the Stars," didn't suffer any controversy upon being eliminated on Monday night.
Now he will spend most of his time planning his wedding to sexy former Playboy model Kayla Rae Reid.
Lochte, who was was caught lying about being robbed during the Rio Olympics, couldn't keep up with the strength of the remaining "DWTS" field.
He and partner Cheryl Burke were sent packing after his rumba last week failed to catch fire, scoring just 28 out of 40. On Monday's Halloween show, he scored just 23 out of 30 for his tango. Although Lochte did beat Marilu Henner in the dance off cha cha later in the show, it wasn't a surprise he got eliminated.
Lochte, who took time out from "DWTS" rehearsals to pop the question to Reid on October 9, told FOX411, "Now that the show's over for me, I can sit down, take a deep breath and start thinking about [the] wedding. That's what I'm going to be doing for the next nine months or ten months or however long we decide until our wedding day is."
The nine or ten month time frame is probably significant because as CNN reported in September, Lochte was suspended from his sport for ten months as a result of his role in the scandal in Rio. He reportedly won't be allowed to swim in the 2017 world championships.
Lochte earlier told "DWTS" reporters that he doesn't care how big the wedding is, saying, "I just want my family and my friends there and she wants the exact same thing so we might keep the wedding small-- but the party afterwards is going to be big."
Now he has plenty of time to make a guest list with Reid—but on Monday, the Olympian still said leaving "DWTS" was tough. "I feel sad. I didn't want to leave but I knew it was going to happen eventually. The people, the friendships I've created are pretty much a second family here that now I'm saying goodbye to. I will be back in two weeks for the finale. I can't say all my goodbyes [now].
"I learned a lot about myself. No matter how people knock me down I can still get up and I can keep fighting no matter what and keep moving forward and staying positive," he added.
During the "DWTS" September 12 live premiere, two male audience members rushed the stage towards Lochte as he and partner Burke were receiving judges' feedback. Studio security guards tackled them before Lochte or his pro were touched in the scary incident.
Other audience members also jeered Lochte for his Rio behavior and were ejected from the ballroom.
The next week, he admitted, "I wanted to quit."
However, Lochte bravely weathered the storm and made it to week eight, telling reporters "DWTS" helped change his image: "I think my dance did. Throughout the [TV rehearsal footage] packages that go through each dance routine, the different dance types I had and being emotional and you name it. I think America definitely saw a different side of me."
His loyal partner Burke, who returned to the show after taking a few seasons off, was happy to help. She said, "When my purpose is bigger than just teaching someone how to dance, really changing someone's life, that for me is the whole reason for me coming back this season."
She loved "getting to know him, showing America that he's just a normal guy and stopping people from judging when you don't really know somebody…Ryan is really down-to-earth, humble, funny. If I had a brother, I could definitely compare him to that."
Lochte said he's proud of what he accomplished, "especially with my dancing ability before coming into this show. I'm definitely really shocked that I made it this far. I have the world's best teacher."
Meanwhile, his fellow Rio Olympian, gymnast Laurie Hernandez, looks like a strong contender for the "DWTS" mirror ball trophy, getting a perfect 30 this week. She told FOX411 after the show, "It's sad. We definitely bonded over the past couple of weeks. I mean, we didn't even meet in Rio just because we were all so busy but the fact that we met here, we were able to associate each other over the fact that we went to the Olympics and we were Olympians together but it's really hard to see him go."