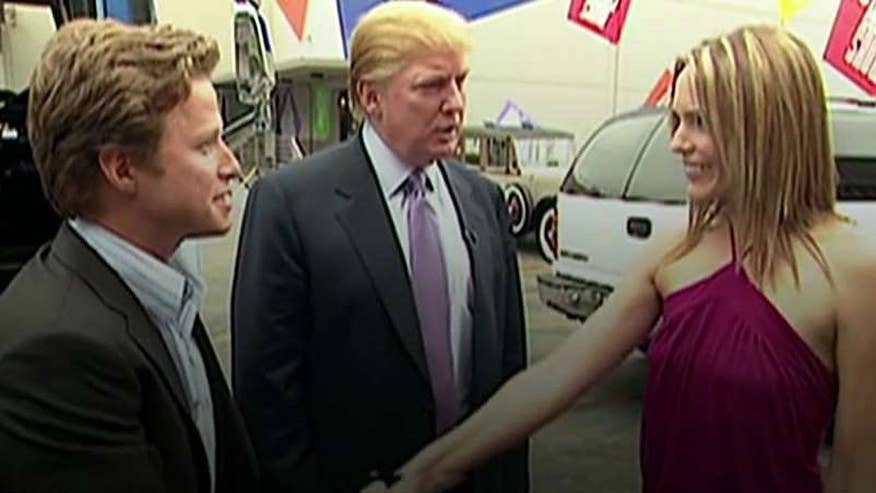 "Access Hollywood" reported Friday the married woman Donald Trump described in crude terms in a leaked 2005 video was Nancy O'Dell, a former anchor of the show.
During the show's Friday night broadcast, Natalie Morales identified the woman as O'Dell, adding, "There were seven other people on the bus with Mr. Trump and Billy Bush at the time. There were the two-person camera crew, the bus driver, an 'Access Hollywood' producer, a production assistant, Mr. Trump's security guard and his PR person."
Trump bragged about kissing and groping women and used a vulgar anatomical term and discussed trying to have sex with an unidentified, married woman.
"I moved on her and I failed," Trump said. "I'll admit it ... She was married ... And I moved on her very heavily. In fact, I took her out furniture shopping. She wanted to get some furniture. I said, 'I'll show you where they have some nice furniture."
O'Dell's rep had no comment while Bush, nephew of President George H.W. Bush, released a statement.
"Obviously I'm embarrassed and ashamed. It's no excuse, but this happened eleven years ago – I was younger, less mature, and acted foolishly in playing along. I'm very sorry."
The Washington Post obtained the tape, which includes audio and some video. Trump issued an apology Friday afternoon.
"This was locker room banter, a private conversation that took place many years ago," Trump said. "Bill Clinton has said far worse to me on the golf course - not even close. I apologize if anyone was offended."
NBC did not immediately return FOX411's request for comment.
FoxNews.com's Blanche Johnson and Diana Falzone contributed to this report.