Is that Ronda Rousey in only body paint for Sports Illustrated's swimsuit edition? The pictures seems to suggest it is.
The editor in charge of the Swimsuit Issue, M.J. Day shared a new photo on Instagram Tuesday afternoon of a woman's backside, clad only in body paint realistically applied to look like a swimsuit.
"If #2016 keeps going like this, then I'm going to be one happy, happy girl!," Day wrote, tagging the behind the scenes photo with #instabooty, #bootypaint and #siswimsuit as well.
The model is not identified, but eagle-eyed Internet readers went into a frenzy after noticing some distinctive tattoos that led them to deduce that this wasn't just any model – it's Ronda Rousey.
The tattoos on the model's wrists are strikingly similar to those Rousey has on her right wrist.
The former UFC champion, who has kept a low profile since her devastating loss to Holly Holm, has a Kodokan flower (a traditional judo symbol) and octagon on her wrist.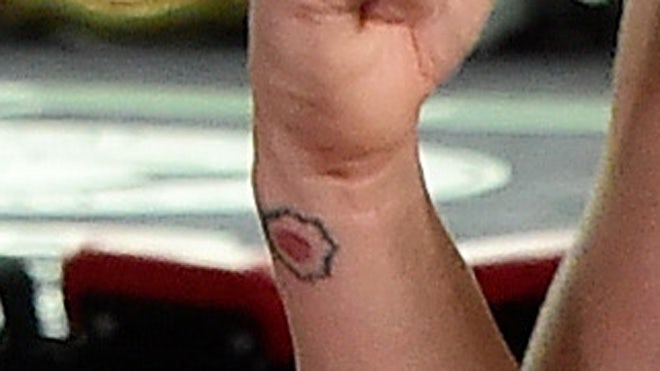 Getty

Sports Illustrated remained coy in a write up that followed the online attention, but seemed to all but confirm that the fighter of Venezuelan descent will feature in the 2016 edition.
"Thanks to a few inconspicuous tattoos, it looks like our next body-painted beauty may be the one and only Ronda Rousey. We can neither confirm nor deny these rumors, but isn't the idea of Ronda donning nothing but paint enough to tide you over until the issue comes out in February?," the magazine wrote on its website.
If Rousey is in fact in the swimsuit spread, it won't be her first time. Rousey graced magazine's pages in 2015.
Fans will have to wait until February for confirmation. In the meantime, they can catch the formerly undefeated fighter during her hosting duties on "Saturday Night Live" on Jan. 23 with Selena Gomez as the musical guest.
Like us on Facebook
Follow us on Twitter & Instagram