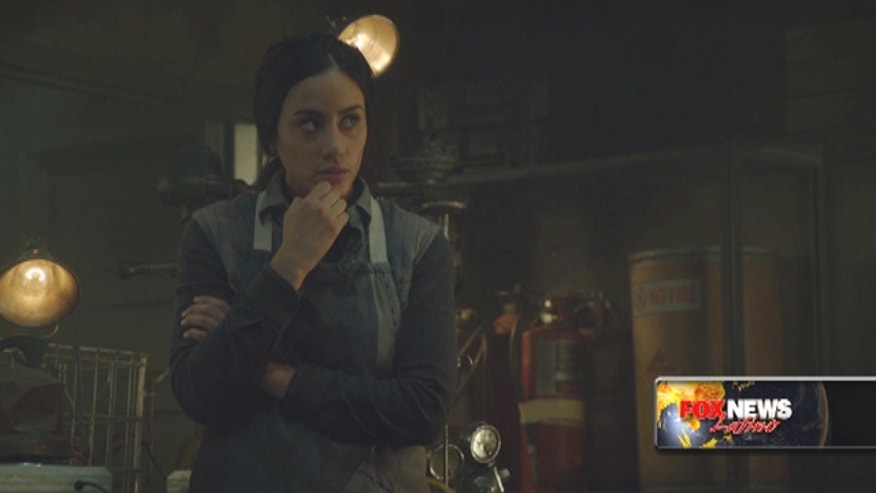 Fresh off of Broadway, where she played a young Chita Rivera in "The Visit," Michelle Veintimilla got the perfect role to grow her wings with a storyline she says pretty much parallels her own.
The 22-year-old New Yorker debuted Monday as Bridget Pike, the first-ever female reincarnation of the DC Comic villain "Firefly" as part of a two-episode ark on FOX's "Gotham."
"It felt incredibly daunting," Veintimilla told Fox News Latino ahead of Monday night's episode. "I was up for the challenge. I feel very lucky that I got to do this. It was incredibly empowering and I learned a lot about myself as a woman."
"I think Bridget and I have a lot in common in our stories — sort of parallel because Bridget does not know her strength before this," she said.
"This is my very first really big job and I was very scared too … 'Gotham' is a tremendous show and I was doing a lot of things for the very first time," she added. "I feel like I've grown a ton."
In the episode, Bridget is the pyromaniac sister of a gang of arsonists who are enlisted to do a job for the infamous Penguin thanks to her old friendship with young Selena Kyle aka Catwoman.
Veintimilla said Bridget's friendship with Selena was pivotal for her character's transition from a timid girl – almost enslaved by her brothers – to a strong-willed young woman who will eventually become Firefly.

"Selena and Bridget knew each other from when they were really young. They parted ways and this is the first time they've encountered each other," she added. "I think they are both surprised to see where the other has ended up. When I see her, I cannot believe how independent and awesome she is as a young woman and I think Selena is kind of shocked that I've shrunk into this small, little scrap of a woman, but she knows better."
"We know each other's story … Selena sees the strength in me and knows that I'm better than where I am right now, so she really pushes me to find my strength and my voice," Veintimilla said.
First unwilling to help her brothers, Bridget begins to enjoy the adrenaline rush that comes with dangerous missions — and her pretty kick ass flamethrower.
Veintimilla said she didn't get much time to prepare for the role – she started filming the day after she was told – but she did ask her parents for some history on Firefly.
"I wasn't (a fan of the comics before). I grew up as a dancer and in a dance studio so I wasn't really on the comic book train … DC Comics and Batman in particular were a big thing when my parents were children, so when I was auditioning they were very excited and clued me in on some details," she said.
However, Veintimilla said she was very excited to give her own take on the new reincarnation of Firefly.
"It feels like a big deal. My Twitter has been blowing up. I get tweets that are like 'Yeah! A female Firefly' and I get some tweets that are like 'No!! Firefly is supposed to be a man!'" she said. "And I think both are good. I think that the people who are disappointed with Firefly being a female are going to be surprised when they see the episodes. I'm excited that I get to be a part of that story and I get to portray a young woman who really does find her strength."
"Gotham" airs Monday nights on Fox.
Like us on Facebook
Follow us on Twitter & Instagram
Lucia I. Suarez Sang is a Reporter for FoxNews.com.
Follow her on Twitter @luciasuarezsang