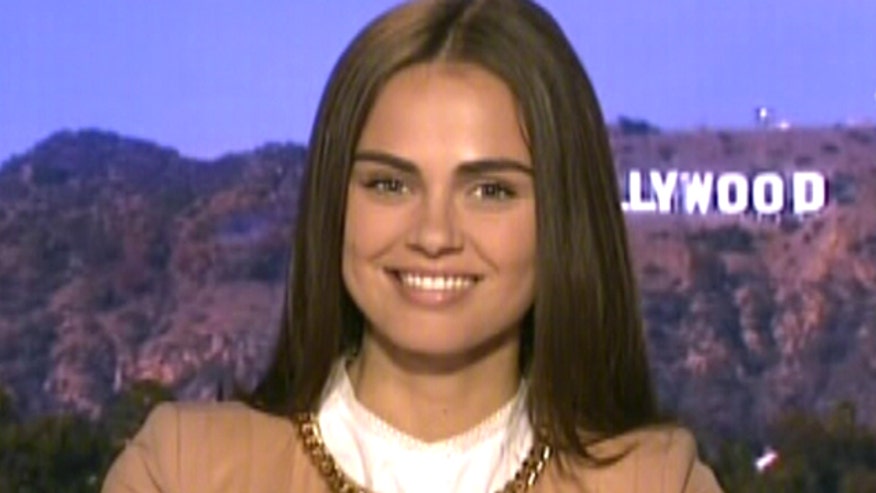 Xenia Deli may not be a household name yet but the former Victoria's Secret model is on her way. She stars in Justin Bieber's latest video, "What Do You Mean?" We talked to the 25-year-old about rumors she's dating the Biebs, and if Selena Gomez is jealous.
FOX411: Congrats on your video. How did you first meet Justin?
Xenia Deli: The first time I met Justin actually was on the set on our first day of the shooting, and I was in the makeup chair and he came to me and this is how we met.
Subscribe to FOX411's new YouTube channel.
FOX411: Many people are curious as to why Justin was crying at the MTV VMA's. Do you know why?
Deli: Maybe because he got in his life what he wants right now and he was working so hard for being on the stage just emotions, just emotions.
FOX411: Since filming the music video, you have been seen with Justin out and about, and have even taken pictures together on Instagram. Are you dating Justin?
Deli: No, we are not dating. We are just friends.
FOX411: Is there a prospect of being more?
Deli: No.
FOX411: Now that you're in the spotlight, what's next for you?
Deli: Of course, modeling. Now I'm in acting classes because I want to get into movies because this is my passion. This is what I love.
FOX411: Bieber says you're beautiful. Do you think Selena Gomez is jealous?
Deli: Of course not. We are all different, and shouldn't jealous.
Fox News.com Reporter and FOX411 host Diana Falzone covers celebrity news and interviews some of today's top celebrities and newsmakers. You can follow her on Twitter @dianafalzone.