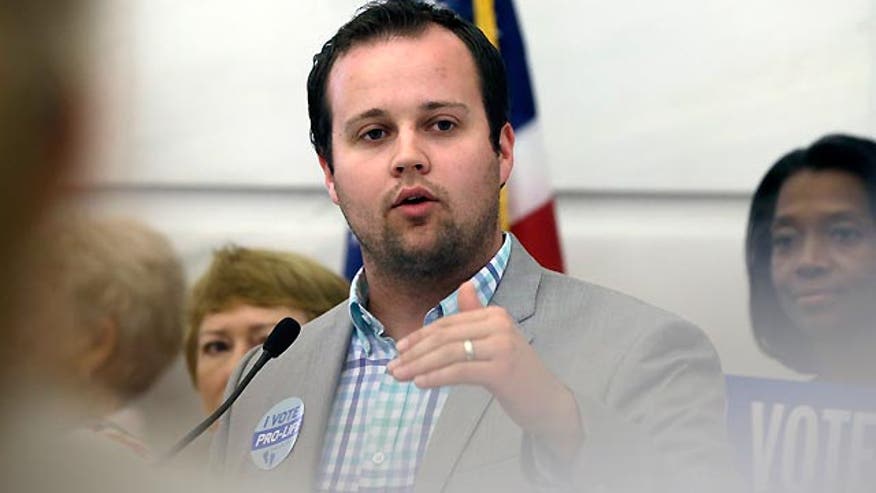 Disgraced former "19 Kids and Couting" star Josh Duggar — who serenaded his bride at their 2008 wedding with the promise "I'll do my best to be faithful and true" — admitted Thursday to being unfaithful tho his wife, Anna Duggar.
The bombshell revelation came just three months after the former lobbyist copped to sexually molesting his four of his younger sisters and a family babysitter when he was a teen.
But all that still may not be enough to cause his wife to pack up and leave.
A source told People.com Anna Duggar is trying to "absorb some of the blame" for her husband's behavior.
"Anna will not leave him," the source told People. "As with her in-laws, she is turning more to her faith than ever. She and Josh are probably praying around the clock right now, I would assume."
Anna Duggar — a stay-at-home mom— would have a tough time leaving the controversial TV family even if she wanted to, experts say.
"Divorce is highly frowned upon," Dr. John Cornish, a former member of the Duggar's Christian ministry, told FOX411.
If Anna Duggar were to dump her cheating spouse, "there are certain people in the [ministry] circles who would shun her for it," Cornish said. "Still, as bad as it is, I would think there would be more people who would accept it if she were to (leave) because what he did is so public and so horrible."
Josh Duggar posted an apology online yesterday calling himself "the biggest hypocrite ever."
His wife has issued no public statement.
"She was very quick to defend her husband with the molestation scandal," says Ashley Majeski, editor of TheAshleysRealityRoundup.com. "This time around, complete silence."
"How is she going to defend this when he was doing all of this behind her back and made her look like a fool for defending [him] back in May when the other scandal broke?"
Majeski believes Duggar was "blindsided" by the reports that her husband spent nearly $1,000 looking for an online fling on the site AshleyMadison.com and would likely want to get as far away from the former reality TV family as possible — if she could.
"There is no show to profit from anymore, so what does she have to stay for?"
Then there is this wrinkle: Even if the Sunday school teacher wanted out, she could end up waiting up to two and a half years to end her marriage if it turns out she entered into a highly restrictive "covenant marriage."
The legally binding unions — which two of Duggar sisters have publicly agreed to — are commonplace among members of the Duggars' community. Sister Jill Dillard and Jessa Seewald memorably spoke about their covenant marriages during their wedding specials on TLC. Josh Duggar's wedding, filmed years earlier, did not address whether or not the pair had opted for a covenant marriage.
Covenant marriages allow for divorce only in certain extreme circumstances --such as physical or sexual abuse of a spouse or child, or infidelity-- but only after a mandatory counseling period that can be up to 30 months long.
A source told People magazine Anna Duggar could also even be blamed for her husband's scandal.
"Maybe not publicly, ever, but privately, there will be some suggestion of whether or not she should have been more aware of the pressures Josh was under, of the issues he was facing, and how she could have better counseled him or helped him," the source said.
The source added, "She is fully and permanently committed to her marriage and her children. And she'll have the support of [Josh's parents] Jim Bob and Michelle and everyone else in their circle in terms of staying with him and making this work."

Josh Duggar and his wife have four children together.