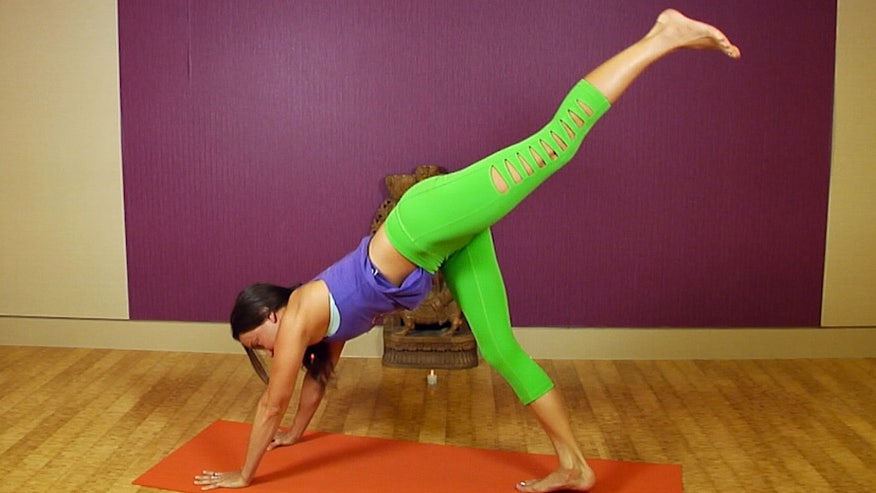 See what's trending:
• Britney Spears gave an interview on Thursday morning (June 4) with the Dan & Maz Show on 2DayFM in Australia — sounds pretty standard, right? Except the pop princess admitted to painting topless while listening to Mariah Carey.
"I love Mariah Carey. Still to this day. I was painting in my room. I have an art room, and I just paint on the walls and do all this kind of crazy stuff. I bought her new greatest hits, and her new Infinity record yesterday, and I was just in there with my top off, just like painting and doing all this artsy fartsy stuff," the 33-year-old entertainer said on the show, as reported by JustJared.com.
Here's the response Carey gave.
• Victoria's Secret Angel Candice Swanepoel, also known as Maxim Magazine's Hottest Woman, is proudly showing off what could be her most racy photo yet:
Jun 2, 2015 at 2:53pm PDT
• Forget bathroom selfies — those things are never cute. Emily Ratajkowski, also known as the "Blurred Lines" girl, amps up her Instagram game by snapping this pic, which Sports Illustrated is calling "the sexiest bathtub selfie EVER."
May 30, 2015 at 1:03pm PDT
• Hilaria Badlwin is best known for showing off her amazing yoga skills, but this time, she's proudly flaunting a growing baby bump — in her lacy underwear. See the revealing selfie for yourself below:
Jun 3, 2015 at 7:05am PDT
• On the subject of yoga, if you're looking to gain as much energy as the very pregnant Baldwin, don't sweat it — actually, be prepared to sweat it out. Check out our video above and learn three ways you can detoxify your body with yoga. Finally, you can say buh-bye to those sluggish feelings that have been weighing you down since winter.
• Bobby Flay is the first celebrity chef to receive a star on the Hollywood Walk of Fame, but that's not exactly what he's getting publicity for. The ceremony was literally overshadowed by a plane with a trailing banner that read "CHEATER." The Food Network celeb is currently in a messy divorce battle with his now estranged wife, actress Stephanie March.
• Lifetime's top-secret movie starring Will Ferrell and Kristen Wiig will actually air later this month. It's titled "A Deadly Adoption". Check out the massive billboard for it on Hollywood Boulevard below:
A Deadly Adoption, everyone. pic.twitter.com/hsQ5Oom5av

— Rebecca Ford (@Beccamford) June 3, 2015
• At age 85, Clint Eastwood has zero plans to slow down anytime soon. He's set to direct a biopic based on Captain Chesley "Sully" Sullenberger, who safely made an emergency landing on the Hudson River in 2009, saving the lives of all 155 people onboard his plane.
• Janet Jackson will release her first album in seven years.
• Cindy Crawford's 13-year-old daughter, Kaia Gerber, is pretty much her twin.
Jun 2, 2015 at 2:54pm PDT
• Pregnant Kim Kardashian somehow managed to squeeze herself into a skintight latex dress to promote an energy drink in Nashville, Tennessee.
Jun 2, 2015 at 3:43pm PDT
• Retired soccer star David Beckham shared this adorable snap of himself teaching his daughter Harper how to ride a bike.
May 31, 2015 at 3:41am PDT
• No Doubt front woman Gwen Stefani took the ombre trend on a whole new level with her new 'do:
Jun 1, 2015 at 12:27am PDT
• It can't get any more adorable than this: Duchess Kate Middleton was spotted on a secret play date with Prince George in matching mommy-and-me outfits.
• Speaking of the royal family, Prince Charles seemed to be smitten with Sports Illustrated model Irina Shayk.
Jun 2, 2015 at 10:40am PDT
• In honor of Marilyn Monroe's recent birthday, Victoria's Secret Angel Candice Swanepoel celebrated by showing fans this behind-the-scenes look for her Max Factor campaign.
Jun 1, 2015 at 2:04pm PDT
Statuesque British blonde bombshell Rosie Huntington-Whiteley was all back and legs with her couture while attending the Glamour UK Magazine Awards in London.
Jun 3, 2015 at 5:51am PDT
• Nicky Hilton's summer wedding is going to be fit for a princess — and we're not kidding. The hotel heiress and fiancé James Rothschild will be getting married at London's Kensington Palace, also known as the home of Prince William and Kate Middleton.
• Actor Johnny Depp is the new "iconic ambassador" for the house of Dior.
Jun 3, 2015 at 4:20am PDT
• And finally, leggy blonde Bar Refaeli flaunts her runway-ready assets because, hey, did you really think she was just famous for her lean stems?
Jun 2, 2015 at 1:57pm PDT