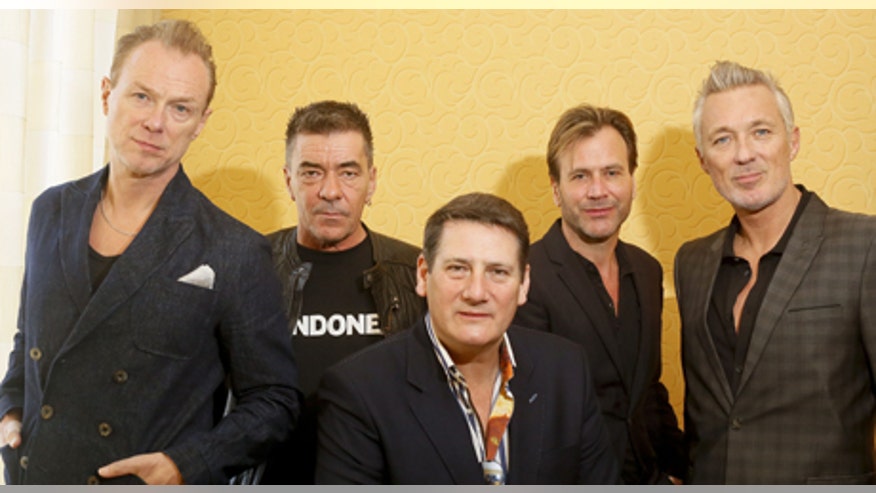 NEW YORK – "Why do I find it hard to write the next line? Oh, I want the truth to be said. I know this much is true."
Those lyrics from the hit Spandau Ballet song "True" have made their way into music history. The title track from their third album was released in 1983, reached No. 1 in 21 countries, No. 4 in the U.S., and continued to find popularity over the next few decades through covers, samples, like the 1991 P.M. Dawn song "Set Adrift On Memory Bliss", cameos in the movies and placement on TV, including Steve Buscemi in "The Wedding Singer" and Edward Norton on "Modern Family."
We talked to the band during their press tour for the documentary "Soul Boys of the Western World" and asked them about their most famous tune.
Gary Kemp wrote the song and told us at the time he was "having this sort of platonic relationship with a singer" and that he "ended up writing a song really to her. There's a few cryptic clues in there." As for the sound, "I think I wanted to write a song that was a bit like a Marvin Gaye, Al Green song, a blue-eyed soul song. It was at a time when it was me concentrating on melody first rather than the sort of riff and the groove."
Subscribe to FOX411's new YouTube entertainment video page
Lead singer Tony Hadley recalled how young they were when the song hit. "We were 23 at the time, it was like wow… what a fantastic moment and it's a song that gets played continually on American radio and all around the world."
"I was 22 when I wrote it," Kemp added. "My brother and I, being the kind of ordinary chaps that we are, we were still living at home with our parents. So I mean, probably I would be playing that song to him in our bedroom and then our Mum would go, 'come down your dinner's ready!'"
"The song was about trying to write a song but being scared about being too honest and them finding out that it was about them," he explained. "So, you know, 'Why do I find it hard to write the next line? When I want the truth to be said' but it's because you're a bit shy of it."
"You never know if a song is going to be a classic," said band member Steve Norman. "There was one moment, which is actually in the film, where we're in the studio recording it and then we started to sing, Gary was sort of playing the guitar I believe, and we are all there sort of singing along and then there was a little bit of a magic in the studio there. That was the first indication that we were onto something special."
Fox News Entertainment Producer Ashley Dvorkin covers celebrity news, red carpets, TV, music, and movies. Dvorkin, winner of the 2011 CMA Media Achievement Award, is also host of "Fox 411 Country," "Star Traveler," "Fox 411 Big Screen," and "Fox on Reddit."