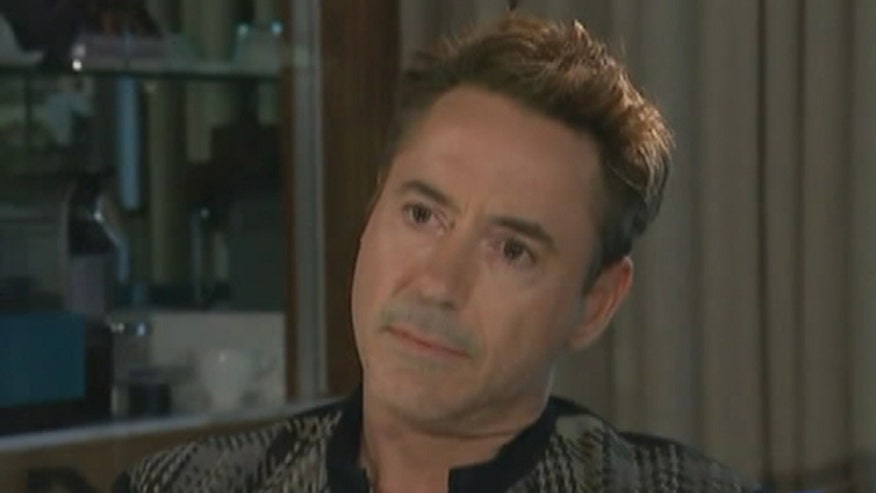 This is painful..
Robert Downey Jr. was on the UK's Channel 4 News recently when the "Marvel's Avengers: Age of Ultron" star was taken aback by interviewer Krishnan Guru-Murthy's uncomfortable line of questioning. (You can skip to about 3:50 in the video to see the moment.)
NEWS: 11 Times the New 'Avengers: Age of Ultron' Trailer Made Being Bad Look So Good
The trouble starts when Krishnan asks the 50-year-old actor about a quote he gave the New York Times regarding his political beliefs after going to prison.
"You can't go from a $2,000-a-night suite at La Mirage to a penitentiary and really understand it and come out a liberal," is the comment Krishnan referenced.
After Robert politely answers that he is unable to speak to a quote he gave years ago. "I couldn't even really tell you what a liberal is, so therein lies the answer to your question," he insists. He then asks, "Are we promoting a movie?"
That's when Krishnan and Robert dance around for awhile longer. Downey says he is not a republican, a democrat or a liberal before Krishnan finally asks Robert about his father, and the "dark period" in his life.
So naturally, Robert asked what was going on.
WATCH: 'Marvel's Avengers: Age of Ultron' Cast Plays 'Family Feud' on 'Jimmy Kimmel' and It's Adorable
Ultimately, Robert Downey Jr. walks out of the interview.
Fans were very quick to defend Robert during the interview, and call out Krishnan's line of questioning.
This is actually not the first time Krishnan has conducted a train wreck of an interview. He memorably upset Quentin Tarantino during a press interview for "Django Unchained."
"Marvel's Avengers: Age of Ultron" premieres May 1.
WATCH: 'Avengers: Age of Ultron' On-Set Exclusive: What Makes the Sequel Bigger & Better?