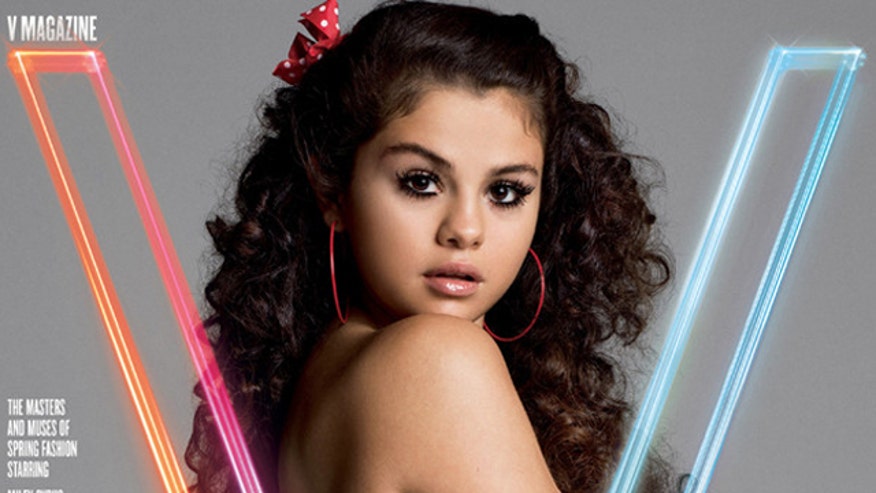 Selena Gomez has always looked young, but some are saying that V magazine made the baby-faced singer/actor look too young in its racy cover shoot.
Gomez, 22, appears topless on the cover of the fashion magazine with a frilly bow in her hair, and inside wears what have been described as kids clothes.
Several viewers even described her as looking like Lolita, the underage girl seduced by a middle-aged man from the famous Vladimir Nabokov book (and its movie versions) of the same name.
Selena Gomez is a grown woman but on the cover of V, she looks like a 13 year old Lolita-type with that hair clip and doe-eyed look #creepy

— Maureen (@itzMomos) February 17, 2015
Why Selena Gomez's jail bait, Lolita shoot is all kinds of wrong via @YLifestyleUK http://t.co/C4gqb6eyJM pic.twitter.com/l8Dq6appK0

— Sophie Tighe (@SophieTighe) February 18, 2015
Selena Gomez's 'Lolita-style' topless magazine shoot branded 'disturbing' as 22-year-old singer is… http://t.co/glu7jyesSB

— Team Sporah (@SporahNjau) February 18, 2015
Gomez, for her part, has no issue with the photos and has posted several of the shots to her own Instagram page.
Gomez is no stranger to controversy. She starred in the raunchy 2013 comedy "Spring Breakers" when she was just 19, and had a much publicized relationship with the much-maligned Justin Bieber that started the year before.
"I was 18 years old, and it was my first love," she told the magazine. "The older I get, I'm guarding certain things more."
But she's not looking back.
"I think this year is going to be incredible," she said. "I feel the best I've ever felt in my life."
WATCH: Four4Four: Angie Harmon's dress slip vs. Selena Gomez's 'Lolita' cover