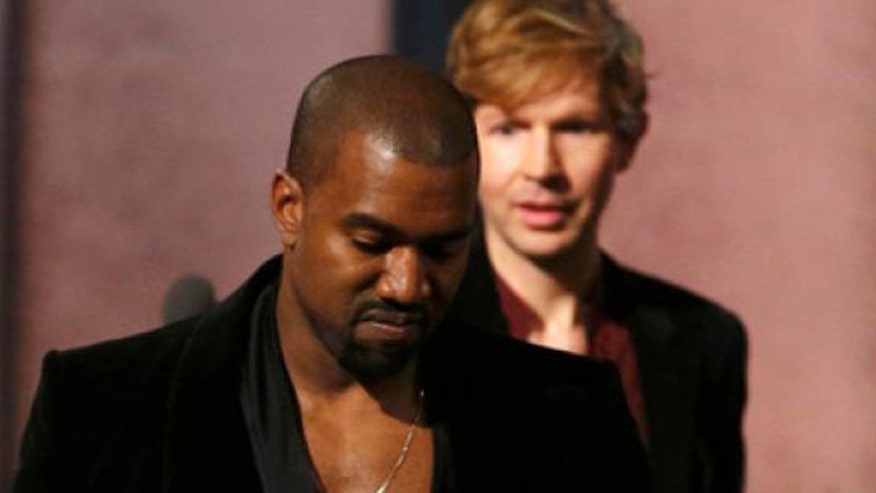 LOS ANGELES – Nods to political, social and racial issues were featured prominently at this year's Grammy Awards ceremony on Sunday night.
Rapper Common joined forces with singer John Legend to perform their anthem "Glory" from the recently released historical civil rights film "Selma," using strings and a choir to instill something of a Gospel church vibe.
The two incorporated the symbolic "Hands Up, Don't Shoot" physical gesture into their live performance, referring to Michael Brown, who died following an altercation with a police officer last summer.
"Glory" missed the deadline to be considered for a Grammy, but the tune is a favorite to win the Oscar for Best Song.
Backup dancers in Pharrell's "Happy" performance also appeared to display the "Hands Up, Don't Shoot" motion, prompting a discussion on social media.
Ebony magazine called it a "statement on music's biggest stage," Now Then also stated that Pharrell was honoring the "black lives matter" hashtag in his "unusually subdued 'Happy' performance." Meanwhile other viewers tweeted in confusion as to whether the gesture was in reference to the rallying cry from Ferguson or pertaining to "serving the Lord."
Grammy host LL Cool J was joined on stage by Gwyneth Paltrow to introduce Beyonce's performance and highlight a call for respect and greater understanding among people from different places and stages in life.
"We live in complicated times," Paltrow said.
Beyonce's subsequent "Take My Hand, Precious Lord" featured the support singers lifting their arms in solidarity.
Prince also drew attention to the issue during his speech prior to presenting the Album of the Year award, which quickly went viral in memes across the Internet.
"Like books and black lives, albums still matter," the "Purple Rain" musician said, prompting strong support from the audience.
Hollie McKay has been a FoxNews.com staff reporter since 2007. She has reported extensively from the Middle East on the rise and fall of terrorist groups such as ISIS in Iraq. Follow her on twitter at @holliesmckay