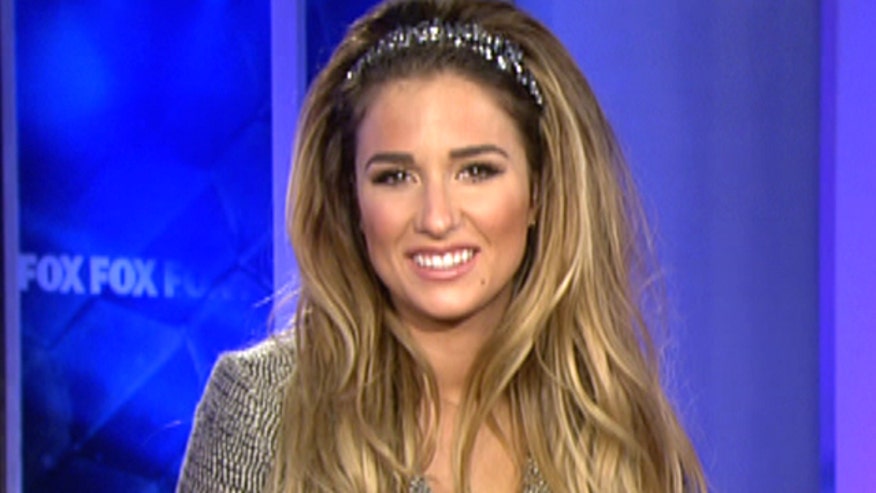 Jessie James Decker is FaceTiming with her husband, Jets wide receiver Eric Decker. As stylists tease the country vixen's bombshell hair and paint her eyes a sultry slate, she sweetly mocks Eric's thick mustache (he's growing it for Movember, the men's health fund-raiser). He gives Jessie's sizzling, camera-ready look a big thumbs up. She signs off with a dulcet "I love you."
New York's hottest new power couple are clearly smitten.
"I feel beautiful," Jessie, 26, says of her photo shoot with Alexa, the first since she gave birth in March. "My husband likes my new butt, so it's all good. I gained 55 pounds when I was pregnant, and I've almost lost it. I've got 10 pounds left to go, but I'm not pushing myself."
Since moving to the city from Denver this past spring, the stars of the E! reality show "Eric & Jessie: Game On" have been turning heads and making headlines. The pair, who met through a mutual friend in April 2011, revel in sharing the spotlight. They married in June 2013, but not before their journey to the altar was captured for E! cameras.
Last winter, while pregnant with their daughter, the singer posed (wearing nothing but bubbles) with her husband for a risqué GQ spread, catapulting them further into the national spotlight.
Then came the move east to Morristown, NJ. After Eric, 27, wasn't re-signed by the Denver Broncos, the Jets offered him a five-year, $36.25 million contract.
"We were so shocked by Denver not even asking Eric to come back," Jessie says. "As soon as the Jets called, I was so excited that a team wanted him that badly and they were giving him so much respect. I was so happy."
James is also excited about her new clothing line, which she says will embrace that down-home-with-a-touch-of-glam spirit.
"It's not going to be a traditional, chic, fancy-shmancy clothing line," says Jessie, with the faintest Southern lilt. "It's going to be things that I would wear every day, like cutoffs and flannels. Red carpet is always fun, but you're never going to see me on the street or in the grocery store in 6-inch heels. But I am always going to have big, fabulous hair and makeup."
Go to The Post for the full interview.
WATCH: Four4Four: Taylor Swift center of attention at VS fashion show