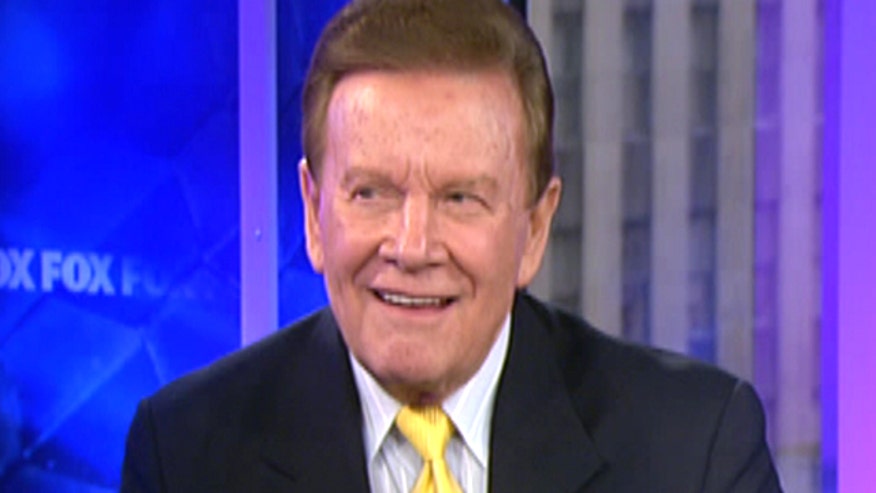 Legendary game show host Wink Martindale joined us in the FOX411 studio to discuss his long-lasting career, Pat Sajak's on-set mini-meltdown, and how he wants "Jeopardy's!" Alex Trebeck's hosting gig.
FOX411: You've been hosting TV game shows for years. Is it the best job in the world or does it drive you slowly insane?
Wink Martindale: I feel so blessed because I'm doing something that I've wanted to do from the time I was old enough to know what a microphone was. I never wanted to be a policeman and I didn't want to be a fireman or a doctor. I just wanted to be a radio announcer. I'm doing what I always wanted to do. It's a great job.
FOX411: If you could host any game show today what would it be?
Martindale: There are two. My first choice would be 'The Price Is Right.' I love to play games, and of course they have the best of games and I think one of the top three game shows ever to be developed is 'Jeopardy!' I'll give you the answer, you give me the question. I mean how simple could it be? Alex's been doing a great job on it…been doing it over 30 years, and I would love to have his job.
FOX411: Pat Sajak had a mini-meltdown on set this week after a contestant made a dumb guess. Do you feel his pain?
Martindale: I'm just guessing now but he's done that show for so long. I think there comes a time when you may be are not paying as close attention as you should as the host and I think that maybe he heard some answers from those people that just really set him off to the tune of, 'Why would they say that? That doesn't even make sense.' I don't think he was upset or mad. He got to the point where he didn't want to put up with it anymore.
FOX411: What's the dumbest thing a contestant ever did on one of your game shows?
Martindale: We had a Miss America week during 'Tic, Tac, Dough.' All of the contestants were Miss Americas. One of the questions was, 'There was a Broadway show that was a big hit. Was it 'Hello, Dolly,' 'Hello, San Francisco,' or 'Hello, Tilly?' And the girl said 'Hello Tilly.' And I thought where could they possible put up with that?
FOX411: What game show was the most fun to host?
Martindale: There were two. One was my first successful network show on CBS. It was a blackjack game where you tried to get to twenty-one without going over. It was called 'Gambit.' I guess the show that gave me the longest term of employment had to be the most fun but I think I had more fun doing, 'Tic, Tac, Dough' for ten years than any other show. I'm just sorry I never had the longevity of a 'Jeopardy!' that Alex has had or 'Wheel of Fortune' that Pat's had.
Fox News.com Reporter and FOX411 host Diana Falzone covers celebrity news and interviews some of today's top celebrities and newsmakers. You can follow her on Twitter @dianafalzone.