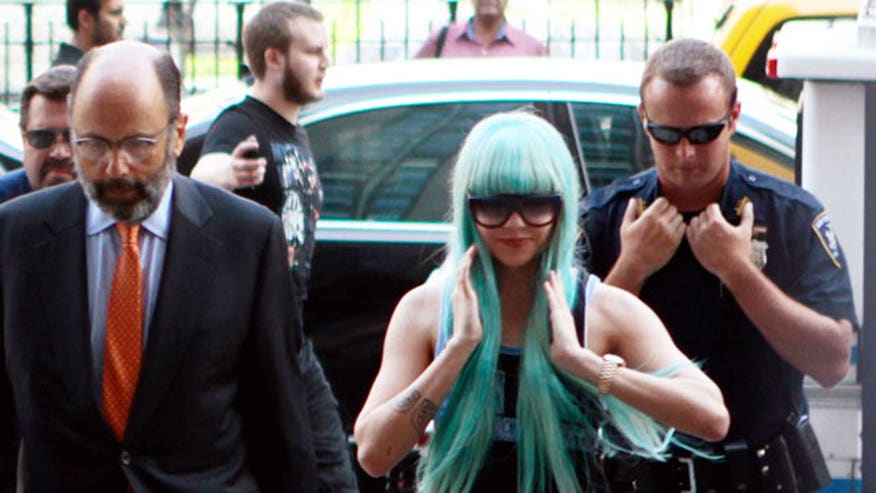 Amanda Bynes is back on Twitter following her release Thursday from a psychiatric hospital.
In her latest missives, the former child star slams her parents, insisting: "I am fully capable of taking care of myself and my finances." She also claims she has a lawyer and is preparing for a legal battle against her parents, once again tweeting that her father sexually abused her.
The police filed a report against my dad - I am not able to be in the same room with him. He is a sexual predator and he SHOULD BE IN JAIL

— amanda bynes (@amandabynes) October 31, 2014
People need to hear the truth about who I really am - I need to show the judge that not only do I not need ANY help making decisions about

— amanda bynes (@amandabynes) October 31, 2014
I am going to court today with my lawyer to prove that I am more than capable of handling my personal life and finances and I am enraged

— amanda bynes (@amandabynes) October 31, 2014
Bynes made similar accusations against her father earlier this month. The 28-year-old was placed on an involuntary medical hold at a Pasadena hospital Oct. 10 after she took back the claims and tweeted that a microchip in her brain caused her to accuse her father of sexual abuse.
Her parents denied her father ever sexually abused her after her initial allegations, saying they were heartbroken and "horrified at the situation."
Her tweets took a turn.
I am ug butt

— amanda bynes (@amandabynes) October 31, 2014
My sister is not as un pretty as me

— amanda bynes (@amandabynes) October 31, 2014


Bynes was reportedly wandering the streets of the Sunset Strip in Los Angeles Thursday night after being released from the psychiatric facility where she was held for more than two weeks, TMZ reports.
According to the gossip site, the troubled actress was turned away from multiple hotels after she asked a hearing officer for her release which was granted despite her doctor's insistence that she is mentally ill.
The officer determined that Bynes appeared lucid and was taking medication and therefore she could no longer be held at the psychiatric facility involuntarily-- cutting her 30-day hold short.
Bynes ended up at the psychiatric hospital after she was convinced by Sam Lutfi, Britney Spears' former manager, to come to Los Angeles under the pretense she would be able to sue her parents when she got there. Lutfi was secretly working with Bynes' parents to bring her to a mental hospital where California law enabled them to place her under an involuntary hold for evaluation.
Bynes acknowledged as much Friday.
I got released from the hospital that Sam Lufti and my parents arranged to send me to because my dad is humiliated by what he's done

— amanda bynes (@amandabynes) October 31, 2014
Earlier this week, Bynes' mother, Lynn, had been granted a probate conservatorship, giving her control over her daughter's estate while she received treatment.
Bynes' mother cited her daughter's recent DUI arrest in California and erratic behavior in New York as proof that Bynes poses a "substantial risk" to herself and others, TMZ reported.
WATCH: Four4Four: Katie can't shake off the Cruise stink