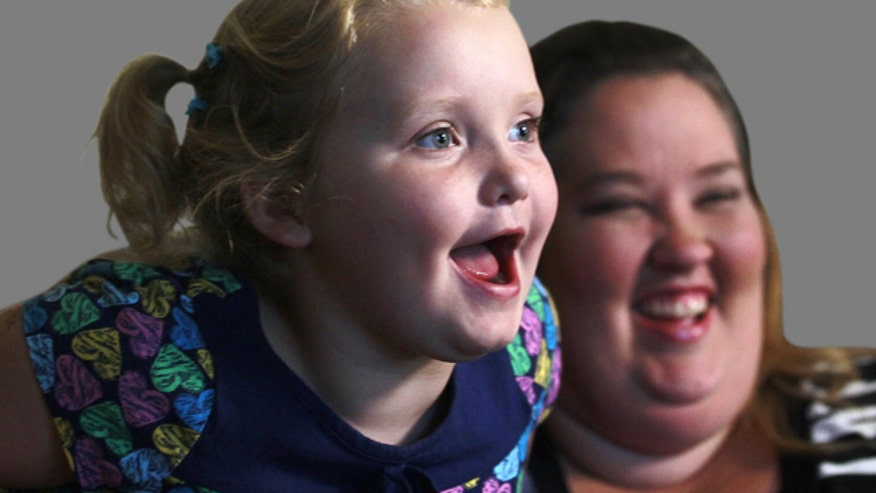 The normally loud-mouthed June Shannon, best known as "Mama June" from her role in TLC's now defunct reality series "Here Comes Honey Boo Boo," was silent on her Facebook and Twitter pages over the weekend.
That may be because a series of eyebrow-raising photos hit the web over the weekend, which showed Shannon spending time with Mark McDaniel, a convicted sex offender who was recently released from prison after serving 10 years for aggravated child molestation.
To make matters worse, one of the photos showed McDaniel with his hand on Shannon's 9-year-old daughter Alana "Honey Boo Boo" Thompson's arm.
All this comes after Shannon's daughter Anna Marie "Chickadee" Cardwell, 20, revealed she was molested by McDaniel when she was a child, the crime that reportedly sent him to jail, and caused a major rift between her and Shannon that was only resolved before filming began on TLC's "Here Comes Honey Boo Boo" in 2012.
Cardwell, who has a 2-year-old daughter named Kaitlyn, said she is confused about the allegations that Shannon is once again dating McDaniel, since her mother vehemently denies having seen the pedophile since his release from jail.
"I'm just confused," she told People magazine. "I'm hearing one story from Mama and another one from someone else."
Cardwell said when she was younger and McDaniel was dating her mother he "would try and touch me and all that stuff." After McDaniel went to jail, Cardwell said Shannon doubted her claims about McDaniel.
"A week or so after it happened, I talked to Mama and she was upset, crying and saying, 'I don't believe you, I don't believe you, why would you do this to me?'" Cardwell told the magazine. "And I was like, 'Mama, he did that to me and I can't do anything about it. You were never there to see it you were always at work.'"
Cardwell then went to live with a relative and only moved back in with Shannon shortly before filming started on the family's reality series. The "Honey Boo Boo" series was a spin-off of "Toddlers & Tiaras," the show that originally made the family famous.
Shannon is adamant she hasn't rekindled her relationship with McDaniel, despite photos that seemingly show them together. On Thursday she published a lengthy video on Facebook in which she insisted she was not dating McDaniel. She has yet to speak out again since the new photos and Cardwell's claims have been made public.
Cardwell said she would be hurt if her mother was indeed seeing McDaniel again, and she would make sure her daughter Kaitlyn is protected from her childhood abuser.
"I would not let [Mama] see Kaitlyn unless Mark is out of the picture ... I don't want him nowhere near my child."