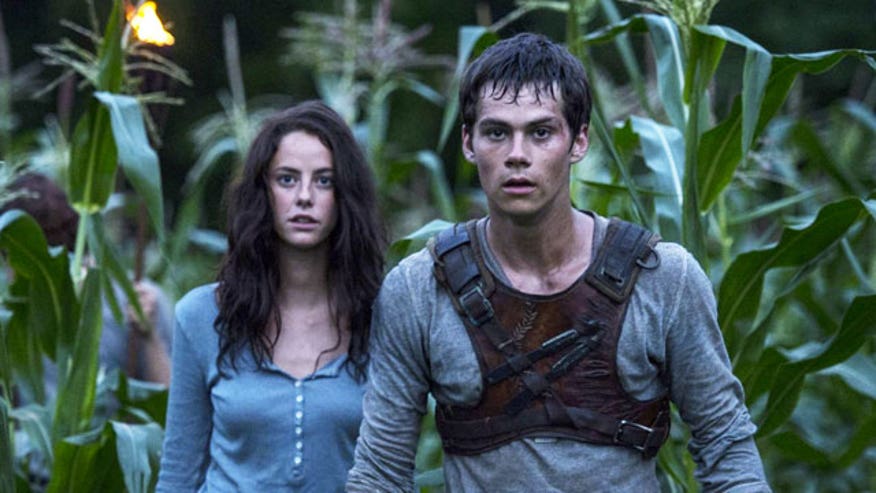 "The Maze Runner" showed that sometimes the weekend box office is a marathon, not a sprint reports Variety.
Twentieth Century Fox's adaptation of James Dashner post-apocalyptic novel took a while to build up a head of steam, but found its core audience by the weekend's midpoint. It debuted to $32.5 million from 3,604 locations, in line with projections. That's good news for the studio, which hopes to turn the story of a group of teenagers battling nasty creatures in a nasty labyrinth into a franchise.
It also allowed the film to jet ahead of Universal's "A Walk Among the Tombstones" and Warner Bros.' "This Is Where I Leave You," which racked up $13.1 million on 2,712 screens and $11.9 million on 2,868 screens, respectively.
"Tombstones'" numbers are disappointing given that the thriller had been expected to bring in $18 million this weekend. Despite boasting Liam Neeson's name above the title, the story of an ex-cop searching for a drug dealer's kidnapped wife may have been hurt by its darker subject matter and hard-R rating. Neeson's action hits such as "Non-Stop" and "Taken" have earned PG-13 ratings. Cross Creek put up the high $20 million budget.
"This Is Where I Leave" sees comedy director Shawn Levy ("Night at the Museum") in a more personal, understated vein. The shiva dramedy arrived with some impressive star wattage in the form of Tina Fey, Jason Bateman, Adam Driver, Jane Fonda and others and performed on the low end of projections which had it debuting in the $12 million to $14 million range. The film cost an economical $19 million to make.
Dan Fellman, Warner Bros. domestic distribution head, said the film played well in major cities such as New York City, Chicago and Philadelphia, where ticket sales climbed on Saturday, but didn't receive as warm a reception in Southern and more rural parts of the country.
"It's going to have great legs in the cities and that's where I need it to generate the revenue," said Fellman. "It's playing like gangbusters in some parts of country, and it's playing a little soft in others."
"The Maze Runner" saw fans of the book series turn out in force on Saturday, sending grosses for the night up 19% to $13.4 million. Based on Friday mid-day grosses it briefly looked as though the film might debut in the mid-$20 million range.
"The Maze Runner's" strong opening must have inspired sequel hopes, but Dashner's book is unique in many respects. It sold well, but not at the level of "The Hunger Games" and "Divergent" books — something its opening bore out. The film of "The Hunger Games" debuted to $152.5 million, while "Divergent" kicked off with $54.6 million. Filmed for a mere $34 million, it was produced for a fraction of what those movies cost.
It also avoided the trap of many young adult franchises that weren't such as "Beautiful Creatures," "Ender's Game" and "I Am Number Four." Part of that reason may be that its action-heavy plot helped the film bring in teenage boys, a demographic that often is difficult to ensnare.
In its second week of release, last week's champ "No Good Deed" fell 58% to $10.2 million, securing fourth place on the charts and pushing its take to $40.1 million. Another holdover, "Dolphin Tale 2″ dropped a modest 43% in its sophomore frame to $9 million bringing its total to $27 million.
On the art house front, "Tracks" pulled in $21,554 from four locations. The Weinstein Company is backing the story of a woman (Mia Wasikowska) who goes on walkabout across the Australian desert.
Another limited release, "Hector and the Search for Happiness" debuted to $46,000 in four theaters. The film follows a psychiatrist (Simon Pegg) who jets around the globe to find the secret to contentment. Relativity Media acquired domestic distribution rights for $1 million.