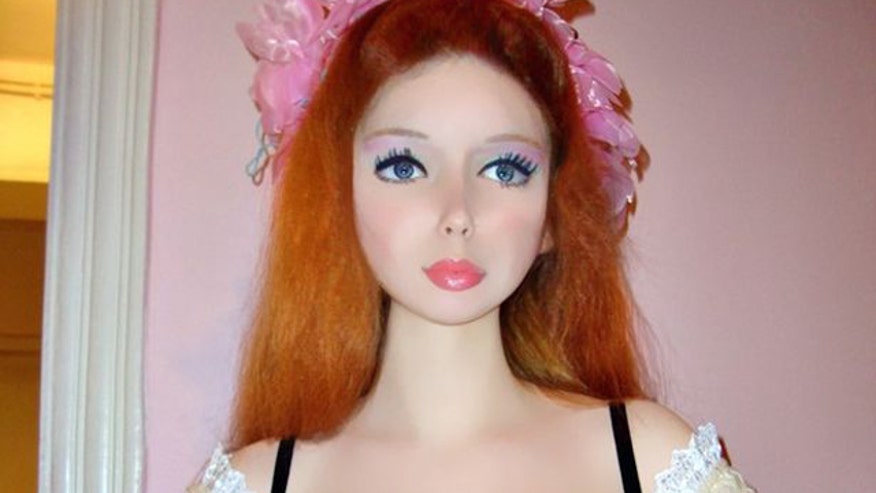 Ukrainian teen Lolita Richi is the latest person on social media striving, for whatever reason, to look like a doll.
The 16-year-old told the UK's Daily Mirror that her 20-inch waist and 32 F bra size -- Barbie's proportions - are all natural. She also insists that she achieves her appearance without Photoshop, plastic surgery, or dieting.
Just contact lenses.
"I had great features to start with and I just improved on them. My big breasts are natural although I sometimes wear a push-up bra to enhance them," she said. "I have a gorgeous figure so I don't even have to diet."
However, photos of the doll-wannabe at the age of 14 show a natural beauty that is a far cry from her unreal looks today.
And while the social media star claims to have never gone under the knife, she encourages others to do so if that's their thing.
"If a girl doesn't have beautiful eyes then they should wear contact lenses to sort it out," she said. "If they have a crooked nose, then she must do something about it, whether that's plastic surgery or not."
Not surprisingly, the high school student's photos have attracted the attention of a lot of guys.
"I want to be with a really manly man who is polite, sensible and who doesn't run away from problems," she said. He also needs to have a full head of hair. I don't like bald men."
Richi is quite pleased with the attention she receives on the Internet but realizes she has limitations.
"I'm only 5 ft 4 inches tall so I can't become a model unfortunately," she said. "But if I can become famous for my appearance in some other way, I will be extremely happy."
When her fame fizzles, the teen aspires to become a psychologist.
Richi follows in the footseps of Valeria Lukyanova, aka "Human Barbie," who was recently featured in an interview with GQ magazine.