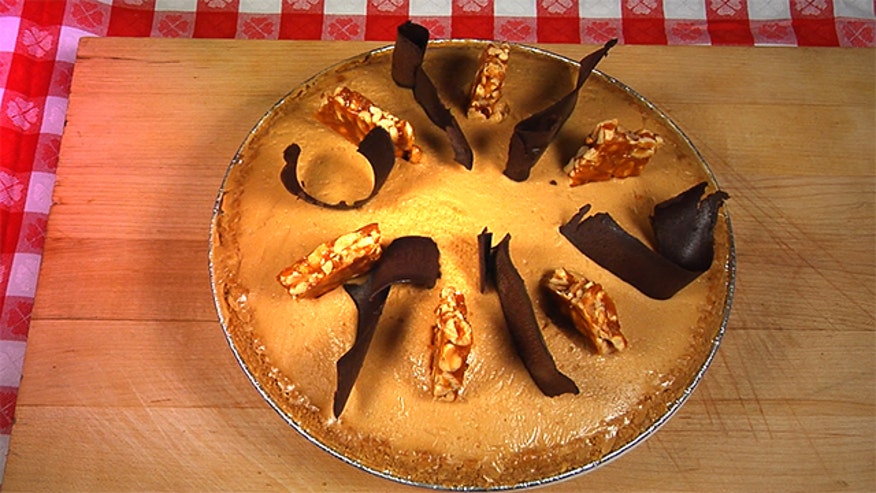 Here's what's happening, everybody:
Like her co-star Naya Rivera did earlier this year, "Glee" actress Lea Michele has been sharing backside bikini photos from her vacation on Instagram (below). Your move, Jane Lynch.
Got any plans for National Junk Food Day (July 21)? Why not celebrate in style with a decadent peanut butter pie, like the one they serve at Virgil's Real Barbecue in NYC? Watch how their chef prepares his restaurant's signature dessert in the video above.
In an effort to protect their daughter from the paparazzi, Kim Kardashian and Kanye West have reportedly hired a baby body double for North at a cost of $500,000. Their efforts are designed to keep unwanted attention away from North, and to place it squarely on another poor, defenseless child.
Adam Levine of "The Voice" married his fiance Behati Prinsloo in Mexico on Saturday, so now we can officially start taking bets as to how and when they'll spectacularly flame out.
James Garner, perhaps best known for his roles in "The Rockford Files," "Maverick" and "The Notebook," died on Saturday at his home in Los Angeles. He was 86.
According to inside sources, Taylor Swift reportedly spends an hour after each gym visit gussying herself up for any photographers that might be waiting outside. (Never let 'em see you sweat, Taylor.)
Former "Saved By the Bell" actress Elizabeth Berkley told Us Weekly that she's "not really curious" to see Lifetime's dramatic behind-the-scenes "SBTB" movie, presumably because she doesn't want to re-live her addiction to caffeine pills.
LeAnn Rimes wore a kind of lacy, see-through top to a recent Miami fashion show, because God forbid anybody pay attention to the runway models.
The royals have released an official photo of Prince George in which he appears to be walking on his own (below). Either that, or this photo was taken just nanoseconds before he crumpled into a heap of pudgy bones and adorable overalls.
In what's starting to sound like one of those old "Scooby Doo" mysteries that Casey Kasem used to lend his voice to, a lawyer for Kasem's daughter claims that his body is missing from the Washington funeral home where it was thought to be. (Somebody go check the old amusement park down by the marsh.)
According to court documents, recently deceased actor Philip Seymour Hoffman purposely left no money to his children because he didn't want them "to be considered 'trust fund' kids." That's also exactly how we'll phrase it when our children realize they don't have any inheritance coming.
And finally, a recently arrested man in Kentucky was accused of using his phone to order a bunch of pizzas to the police station he was jailed in. Yet instead of being psyched for an impromptu pizza party, the officers at the precinct are now charging him with "theft by deception."