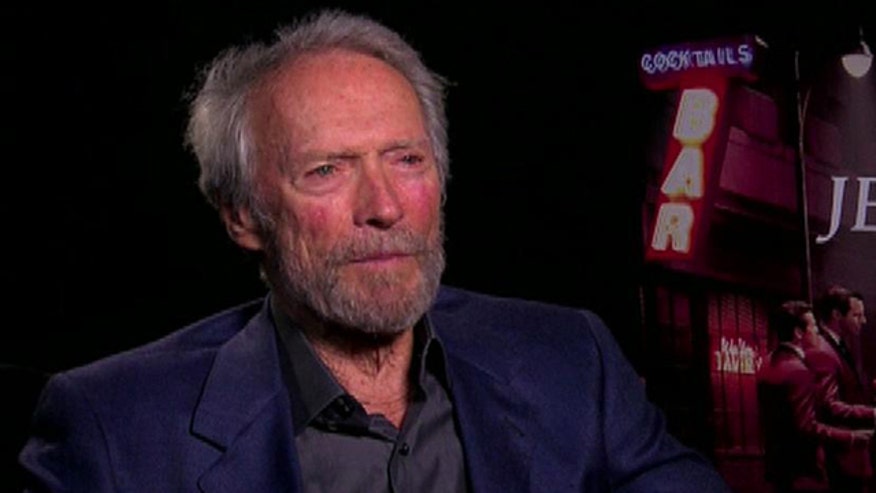 Here's what everybody's gabbing about:
Selena Gomez posted a lingerie photo on Instagram Thursday (below), but it's not quite as racy as it sounds — mainly because Selena made the demure decision to cover her shoulders with your grandmother's vinyl tablecloth.
Want the inside scoop on the new film "Jersey Boys?" FOX's Michael Tammero got the chance to ask director/producer Clint Eastwood why he chose to adapt the hit Broadway musical for the big screen. Check it out in the video above.
Lindsay Lohan told the New York Times that she, Lindsay Lohan, is going to make a "potential appearance" in an as-yet-unannounced revivial of David Mamet's "Speed-the-Plow," set to debut in London sometime this November. We're going to go out on a limb and predict that none of this will ever come close to happening.
Harrison Ford's publicist says Ford never broke his ankle on the set of the new "Star Wars" film — he broke his leg. Man, we just knew it was a bad idea to send our most treasured septuagenarian off to fight in another Star War!
On Thursday, Susan Sarandon posted a selfie with Geena Davis to her Twitter account, proving just how good Thelma and Louise still look more than 20 years after they died in a horrific car crash at the bottom of a canyon:
Inventors of the #selfie at it again. #ThelmaAndLouise pic.twitter.com/1yvbF8j4fF

— Susan Sarandon (@SusanSarandon) June 19, 2014
Kanye West and Annie Leibovitz released a joint statement to explain his furor over not being able to secure Leibovitz as his wedding photographer. Basically, they take two paragraphs to explain that Kanye talked to Leibovitz about shooting a portrait, but she never agreed, and then he ran his mouth.
Gerry Goffin, the ex-husband and songwriting partner of Carole King, died on Thursday in at the age of 75. Telegraph writer Neil McCormick honored him with a short video tribute featuring seven of his most memorable songs:
After their conscious uncoupling earlier this year, friends of Gwyneth Paltrow claim she and Chris Martin might be getting back together, or "unconsciously re-coupling," as we've decided to call it.
Dwayne "The Rock" Johnson revealed a history of depression in a recent interview with The Hollywood Reporter, which, miraculously, cleared itself up when he became one of the most successful actors in Hollywood.
Carmen Electra promoted her new dance/pop/electro album in a recent interview with Galore magazine, but she also posed in various states of undress for the publication (below). It's a wise move, especially because who the heck knows anything about Carmen Electra's music career?!?
In September, Lifetime will premiere "The Unauthorized 'Saved By the Bell' Story," a new TV movie centered on the behind-the-scenes drama between the series' six teen actors. Granted, it's not quite the sequel to "Saved By The Bell: Hawaiian Style" that we were all hoping for, but hey, at least it's something.
An article in the Latino Review is reporting that Ben Affleck will keep Batmanning for at least another five years, with the "Batman v. Superman" movie in 2016, a Justice League movie in 2017, and a stand-alone Batman film 2019.
Actress Zoe Kravitz claims she drank clay to lose weight for her role in the upcoming film "The Road Within," so apparently, the "road within" Zoe Kravitz is paved with gross wet dirt.
As evidenced by Courtney Love's Instagram account, she and Mariah Carey had a run-in at an event in Cannes earlier this week. Here they are posing back to back, presuambly after arguing for twenty minutes about who was taller:
And finally, Rumer Willis told Access Hollywood that she doesn't think she'd be "brave enough" to walk topless through NYC like her younger sister Scout. But by the looks of Rumer's triple-breasted shirt at a fundraiser in Los Angeles, she's getting there!