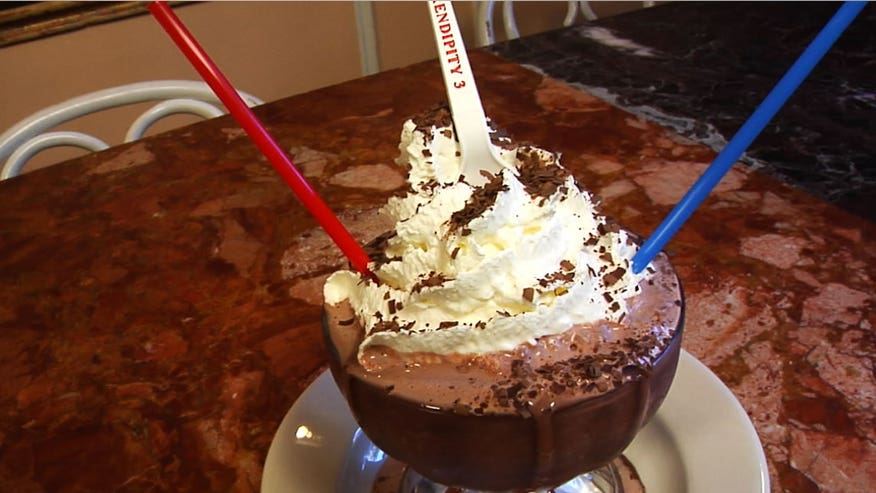 Here's everything that happened:
Tennis superstars Maria Sharapova and Rafael Nadal took part in a photo op after winning the 2014 French Open, but only one of them was wearing a super-tiny dress (below). Can you guess which one?
You've seen it on TV, but here's your chance to finally try it: Serendipity 3's Frrrozen Hot Chocolate! Learn how to make their famous dessert in the video above.
Brad Pitt wore a T-shirt with a drawing of himself and Angelina on it, presumably to demonstrate his continuing commitment to being one half of Brangelina in the wake of the recent Grantonio scandal.
In honor of Father's Day, Working Mother magazine made a list of the 25 Top Celeb Working Dads. They included such men as David Beckham, Prince William and Matt Damon, despite barely knowing anything about their actual parenting skills.
Rapper Lil Kim gave birth to her first child, a daughter who she named Royal Reign. Though it's an odd choice, "Royal Reign" still somehow ranks below "Jermajesty" on the list of dumb royal-ish celebrity baby names.
Taylor Swift has reportedly taken to giving out homemade needlepoint gifts, officially making the prospect of being Taylor Swift's friend that much less rewarding.
Kate Hudson posed in an olde-timey bikini for InStyle magazine, where she also expressed her disdain for people who bother her with plastic surgery rumors. So you know what that means, right? We're thinking ab implants!
On Sunday night in Los Angeles, a very tipsy-looking Jessica Simpson was filmed leaving a night club with her husband, but she miraculously made it safely to her waiting car without falling over or stumbling too much. Even more impressively, she managed to not flash her entire chest through her extremely low-cut (and see-through) dress.
Chris Martin had brunch with Gwyneth Paltrow on Sunday, then met up with Rihanna for dinner. We couldn't say for certain, but we'd be willing to guess that Martin was only allowed to consume sugar and gluten at one of those meals.
Page Six is reporting that Michael Jackson's children earn $8 million in allowance each year. But, in fairness, the lawns at Neverland Ranch must be a pain to mow.
Halle Berry has been ordered to pay her ex $16,000 a month in child support, which is starting to sound like a real bargain after hearing about what those Jackson kids get.
Dolly Parton told People magazine that she "lurves" her goddaughter Miley Cyrus for living life according to her own rules, but probably also because Cyrus keeps giving Parton an excuse to yap away with People magazine.
Despite rumors to the contrary, comedian Tracy Morgan's leg will not be amputated. He remains in critical but stable condition following a six-car accident on Saturday.
Actress Jaime King, who you probably don't remember from her turns in "Hart of Dixie" and "White Chicks," is probably hoping you'll now remember her from this breastfeeding photo she posted on Instagram.
And finally, Kourtney Kardashian reportedly irked the waitstaff at a Hamptons restaurant last Friday after failing to leave a tip for her free lunch. It's unknown whether she yelled, "Fine! You want a tip? Put a sawbuck on California Chrome in the last race!" because at least that would have been hilarious.