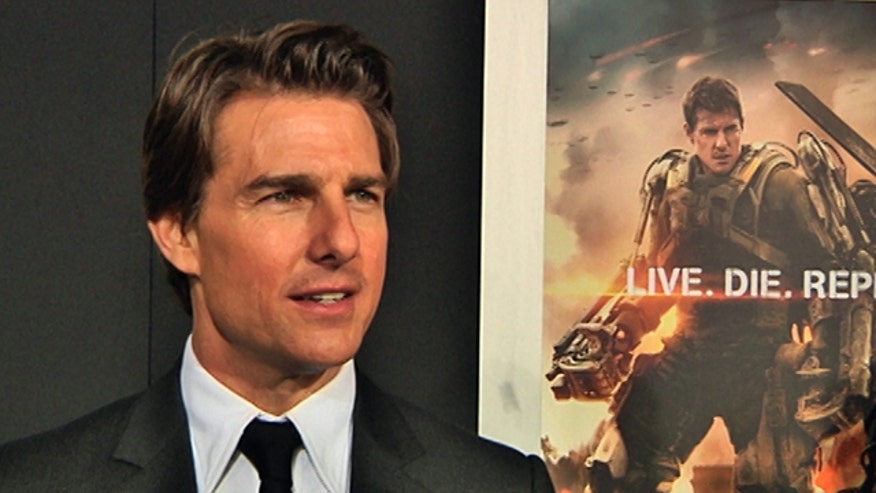 Here what's going on, everybody:
Trace Adkins is apparently out of rehab and touring after a pretty awful start to 2014, including his dad passing away and his marriage falling apart.
Gwen Stefani's stepdaughter, British model Daisy Lowe (Gavin Rossdale's child from a previous relationship) posted a topless Throwback Thursday photo to Instagram from a previous photoshoot in Playboy UK (below). She tastefully censored the pic with carefully placed flowers, but we all know how to Google, so it's not like Daisy's naked torso will remain a mystery for much longer.
Excited for Tom Cruise and Emily Blunt's new sci-fi movie "Edge of Tomorrow"? Us too. FOX correspondent Michael Tammero caught up with both actors at the film's New York premiere to find out what drew them to the project. Hear what they had to say in the video above.
An anonymous spy from the New York Post wrote an article about the lavish/disastrous spectacle that was Kim Kardashain and Kanye West's Italian wedding, detailing their ridiculous demands, decorations, and the five-story golden toilet tower. (Really.) Despite this, a photo of the two kissing at the wedding is somehow now the most liked Instagram of all time.
Robert Pattinson refused to talk about his former relationships with "Twilight" co-star Kristen Stewart in a recent interview with the Hollywood Reporter, but when asked if they still talk, he replied, "Oh yeah." Thanks for the juicy deets, Rob!
After an American businessmen crashed his car in Tuscany, one of the first people to rush to his aid was Rowan Atkinson, the actor famous for playing the bumbling Mr. Bean on British television. Unlike his famous character, Atkinson didn't somehow manage to make things a thousand times worse.
Rock musician Marilyn Manson will be joining the cast of "Sons of Anarchy" for the show's final season, portraying a white supremacist. With all that pancake makeup, he is supremely white, after all.
The upcoming Joe Namath biopic has found its director in James Mangold, whose former credits include "Cop Land" and "Walk the Line." Frankly, we don't care who gets the job as long as he stays true to Namath's fabulous coats:
In just about the weirdest sentence you'll read all day, "Modern Family" actor Eric Stonestreet took to Twitter to call out Gene Simmons and Paul Stanley of KISS for being really rude to his mother during a flight.
George Michael's reps are keeping mum as to why he was rushed to a London hospital last Thursday, but we can't say it comes as a surprise, seeing as you gave away his heart last Christmas!
Mariah Carey attended a charity event in NYC wearing a blue dress that barely covered her ample bosom. (We get it, Mariah. You're buxom.)
In an interview with Entertainment Tonight, Angelina Jolie revealed that her son Maddox, 12, already has a girlfriend who lives in England. Sounds pretty suspicious is you ask us. After all, almost every seventh-grade boy claims to have a girlfriend in England — one who his classmates have never met or seen, because she only visits during holidays, and because she's too embarrassed to be in pictures.
On Thursday, Nicole "Snooki" Polizzi shared a photo of herself trying on a wedding gown and uploaded it to her blog. Surprisingly, the dress isn't nearly as tacky as you're imagining.
If you're even remotely familiar with eccentric actor Jeff Goldblum, it should come as no surprise to learn that he's been playing in a live jazz band (called the Mildred Snitzer Orchestra) almost every week since 1990. One wonders how he finds the time, what with his acting schedule and knot store commitments:
In the middle of a Poison concert in New Hampshire on Thursday, singer Bret Michaels needed to be rushed to the hospital after it was discovered that he was suffering from low blood sugar.
And finally, get out some tissues for the feel-good story of the week: After successfully raising over $1 million dollars (now over $2.6 million) to fund a "Reading Rainbow" app in order to help schoolchildren in need, LeVar Burton gave a tearful thank-you to all the Kickstarters who contributed: