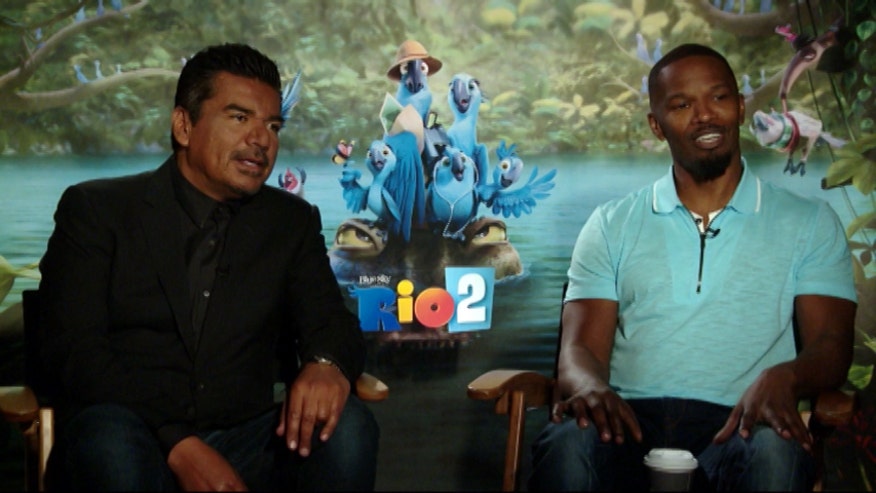 Here's what everybody's gabbing about:
Bikini-clad lovers Michelle Rodriguez and Cara Delevingne were photographed frolicking on a Mexican beach, making out and — in Delevingne's case — going completely topless for the majority of the jaunt.
Jamie Foxx and George Lopez recently stopped by to chat with "In The Foxlight" host Michael Tammero. Watch the video above to see the Jamie Foxx's inexplicable reaction of Tammero's footwear.
Everyone's favorite royals have released their third official family portrait, this time with Kate and William staring longingly at the camera, which Prince George stares longingly at the family dog. Lupo.
While we're on the subject of the royals, Kate Middleton wore some type of woolen-looking frock to the wedding of close friends this Saturday in Chippenham, England.
A perfectly decent-looking woman from Texas spent $25K on plastic surgery to more closely resemble Jennifer Lawrence. But unless the resemblance goes further than just her new blonde-ish hair color, we're not seeing it.
After eight years of hosting her own late-night talk show, Chelsea Handler is leaving "Chelsea Lately" at the end of this year. We can't say that's surprising, since she basically admitted that she hated working at E! during an interview with Howard Stern earlier this month.
"Real Housewife" Joanna Krupa attended a humane society event wearing a completely sheer gown. Like, completely sheer. Shockingly sheer. You can (pretty much) see everything.
Speaking of celebs showing too much, Lady Gaga arrived for a performance in NYC wearing nothing but a flesh-colored see-through bodysuit decked out in roses.
Prince Harry's girlfriend Cressida Bonas uploaded a makeup-free selfie to Instagram, which (we're told) somehow counts as a charitable act for a cancer research foundation.
Hillary Duff looks like a completely different person with platinum blonde hair in this new Instagram selfie.
"Mad Men" actress January Jones isn't a fan of fabric judging by this daring cut-out jumpsuit she wore for her appearance on "The Tonight Show With Jimmy Fallon." Evidently, she's also terrible at pranks, as we learn below:
Like so many millions of crazy cat ladies before her, Taylor Swift has finally succumbed to the inevitable on Sunday when she wandered around New York City with her cat.
Even though we're only a few episodes into the first season, Lindsay Lohan is already pole-dancing on her OWN reality series.
iHeartRadio listeners have voted John Mayer, Taylor Swift and (the very married) Justin Timberlake as the three "biggest celebrity players." That's gotta suck for Jessica Biel to hear, no?
Presumably because she can't just sit back and collect all that sweet "Keeping Up With the Kardashians" money, rumors are swirling that Kris Jenner will pose nude for Playboy magazine. (Let's hope those rumors just keep swirling down the drain.)
Presumably because she can't just sit back and collect all that sweet "Harry Potter" money, J.K Rowling will write three more "Harry Potter" spin-off films based on throwaway characters from the first books.
Dita Von Teese and Hilaria Baldwin teamed up to promote Von Teese's new line of lingerie on Instagram, where Baldwin performed yoga while draped in Von Teese's underwear. But as sexy as that sounds, the photos are rather tame.
ABC News has confirmed that Christina Aguilera will eventually have a baby girl when she gives birth later this year.
LeAnn Rimes is furious that husband Eddie Cibrian's ex-wife Brandi Glanville failed to notify Cibrian that his son Mason (whom he shares with Glanville) was rushed to the emergency room after falling ill this past weekend. But then Rimes admitted that Cibrian blocks his calls and texts from Glanville. So what the heck, Rimes?
Miranda Kerr let it all hang out in a new article for GQ. And when we say all, we mean her entire naked butt. (That link is probably not safe for work, if you couldn't tell.)
In more Miranda news, we can look forward to Miranda Lambert and George Strait paying tribute to Merle Haggard — in song, of course — at the upcoming Academy of Country Music Awards.
Because Chris Martin and television host Alexa Chung drank milkshakes together a year ago, the rumor mills are already implying that this milkshake-sharing act has something to do with Martin and Paltrow's uncoupling.
Speaking of those two, they were photographed dining together in the Bahamas on Friday. We can't confirm if they ordered milkshakes, or if that's exclusively a Martin/Chung thing.
And finally, despite being completely dead, Michael Jackson will release a new album in May titled "Xscape." But he still as no excuse for naming it that, seeing as he was very much alive when female R&B group Xscape released "Just Kickin' It" to the delight of eighth-graders everywhere: [w_BTEFAVwjU]