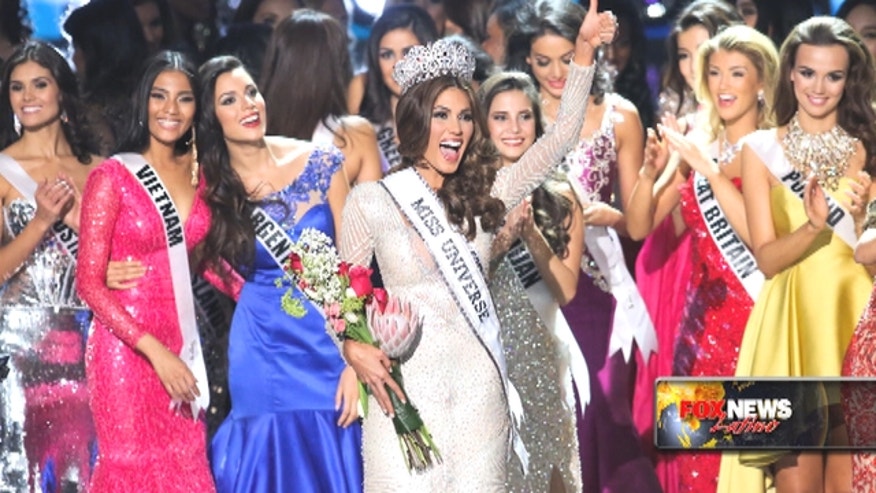 The Miss Universe competition is never without some debate and for this year's winner Gabriela Isler it came in the form of a tweet.
The former Miss Venezuela caused some controversy less than a week after she was crowned the most beautiful woman in the universe for an old tweet targeted at the late Venezuelan President Hugo Chávez.
On June 13, 2012, Isler, who worked as a model, arrived home after a long day and found herself without power. She logged onto Twitter and, on her now-protected personal Twitter account, she complained in Spanish, "Arriving home tired, sweaty, wanting to take a shower, rest, etc… And there's no power!"
She went on to insult Chávez, who remained in office until his death in March 2013. The old message resurfaced after the country's current president, Nicolás Maduro, congratulated her via social media for her Miss Universe win.
Isler, speaking to Fox News Latino, compared the social media platform to a "childhood diary" where you write things that don't necessarily remain significant in your life.
"Maybe in your childhood diary you wrote, 'I'm in love with Pedrito.' What does that matter now?" she said, adding that all Venezuelans at some point get frustrated with the government or the authorities. "It's a normal thing. I don't know what I wrote in my childhood diary, but I know that since two years ago" – when she was named Miss Venezuela – "I have a very balanced posture about the political situation in my country."
Isler continued, "As a queen I speak about unity and respect. I think that is the most important thing."
In response to the congratulatory tweet by President Maduro – which read, "Congratulations to Maria Gabriela Isler for her triumph, that is also Venezuela's triumph. May God bless her always!" – Isler said she feels honored that he took the time to communicate with her.
The two weeks since she was named Miss Universe have been a crazy rush but also a little bittersweet for Isler. "I feel very happy, very proud because all my country is very happy for me for this victory," Isler said. "I'm a little sad because I am far from home… but I know this is going to be a beautiful year."
Over the course of the next 12 months, she will be working with the Miss Universe organization to raise worldwide awareness for HIV/AIDS.
"I think the Miss Universe title not only gives me the opportunity to become a role model for Latina girls around the world, but to show that beauty isn't just about the outside. I would like to show that I have a heart, that I am a human being and I have feelings," Isler said. "And to be this kind of role model not only for beauty pageants but also for life."
Follow us on twitter.com/foxnewslatino
Like us at facebook.com/foxnewslatino
Lucia I. Suarez Sang is a Reporter for FoxNews.com.
Follow her on Twitter @luciasuarezsang