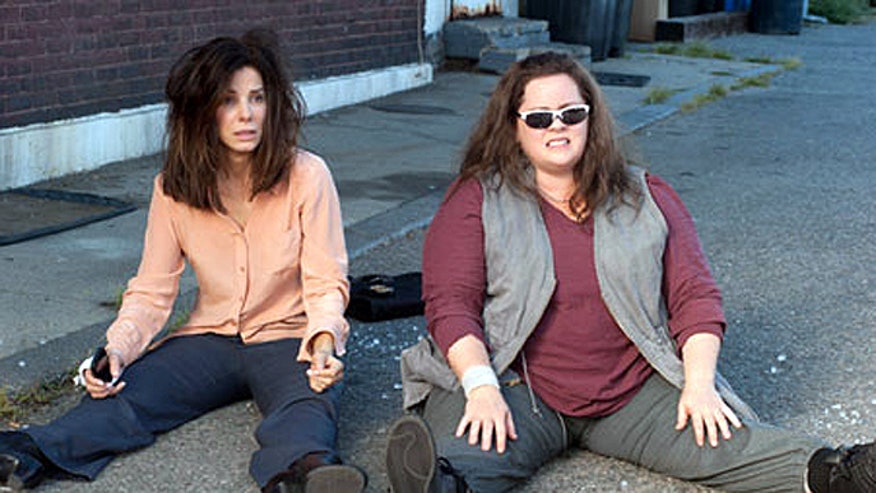 Each week FOX411 brings you the best new take-home entertainment, including DVDs, Blu-Rays, bulked up Combo Packs, video games, and CDs.
This week Sandra Bullock and Melissa McCarthy's summer hit flick "The Heat" has been released on an unrated Blu-Ray combo pack, and director Paul Feig joined us in studio to talk about all the fun stuff they included.
"You get more of the experience of what myself and the crew went through because there's so much behind the scenes, outtakes, and alternate scenes," Feig told FOX411. "When we work we do a lot of improv, and I have the writer of the movie with me, and other writers, and she's handing me jokes or we're coming up with jokes, and so what happens is you get a lot of extra material."
"There's a scene in the bar when they're drinking that one night where they put scotch tape on their faces and pull their noses up, there's a ten minute take of what that actually was." He even brought in special guests, "There's also five commentary tracks on there. One of them is the original Mystery Science Theater 3000 guys, I brought them in, they're friends of mine and they make fun of my movie. I don't have a big ego."
Feig also said he and McCarthy are hard at work on a new project: "Melissa and I are going to do basically a female James Bond that I wrote. I've always been a big spy movie fanatic and so now we're going to do it."
Also available from the big screen to your screen this week is Guillermo Del Toro's epic scale blockbuster "Pacific Rim" about a war between monster sea creatures and human controlled robots. In the early stocking stuffer category there are a few classic TV collections including a 33-disc set of "Betwitched: The Complete Series", the complete series of "I Dream of Jeannie", and yes all four seasons of "The Partridge Family".
There's plenty to sing along to as well, as that lovable giant green ogre takes center stage with "Shrek the Musical" now on Blu-ray and DVD. New music includes Paul McCartney's latest "New," and Willie Nelson's duet album "To All the Girls." American Idol Season 10 winner Scotty McCreery releases his sophomore collection "See You Tonight," and singer-songwriter Gavin DeGraw sends out "Make a Move," telling us it was all about the teamwork this time. "The main difference with this album is that I fully committed to having all co-writing sessions throughout the course of the album, which is the first time I've done this."
Click the videos above to see what else is new in Entertainment this week, as well as more of our interview with Paul Feig.
Fox News Entertainment Producer Ashley Dvorkin covers celebrity news, red carpets, TV, music, and movies. Dvorkin, winner of the 2011 CMA Media Achievement Award, is also host of "Fox 411 Country," "Star Traveler," "Fox 411 Big Screen," and "Fox on Reddit."