Abdominal pain sent Stephanie Jaegers to the hospital.
Georgia police are investigating a deadly home invasion early Saturday in which two young children were killed, according to reports.
The Latest on the trial of a Georgia man charged with murder after his toddler son died in the back of a hot SUV (all times local): ___ 3:25 p.m.
Trial evidence shows a Georgia man swapped sexual text messages with a teenage girl while his toddler son was dying in the back of a hot SUV.
Online chat service records presented in court show that a man charged with killing his 22-month-old son sent someone a message saying the toddler was "awesome" while the boy sat d...
A postal worker outside Atlanta, Georgia, is now under criminal investigation after he was caught on video dumping mail in the woods, WSB-TV reported Thursday.
Suspect in kidnapping of 4-year-old Florida girl faces federal charge
An Alabama man accused of kidnapping a 4-year-old girl from her Florida home and driving her to Tennessee now faces a federal charge.
An attorney for a 13-year-old Georgia student said Wednesday that his right left was amputated below the knee stemming from an incident with a former school contract worker.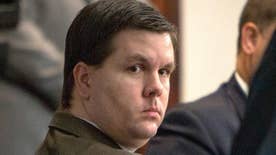 A heat expert testified that temperatures peaked around 125 degrees inside the SUV where 22-month-old Cooper Harris died after being left there all day in June 2014.
The Latest on the scheduled execution of Georgia inmate Gregory Paul Lawler (all times local): 5:25 p.m.