Rep. Gabrielle Giffords Critical
By ,
Published December 11, 2016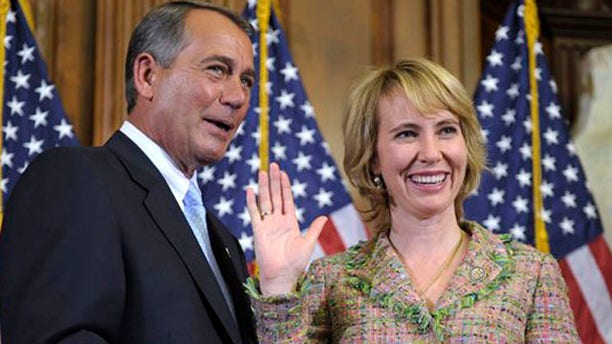 Rep. Gabrielle Giffords (D-Ariz) was shot in the head outside a grocery store, along with 19 others, at an event in Tucson, Arizona. The congresswoman is in critical condition after her surgery, hospital officials said.
At least 20 people were shot at Gifford's "Congress On Your Corner" event held outside a Safeway grocery store in Tucson, including three members of the Democratic congresswoman's staff in Arizona. Five have died and nine are in critical condition at the University of Arizona Medical Center.
Dr. Peter Rhee, a surgeon and chief of the trauma, critical care and emergency surgery said that neurosurgeons have completed their procedures and that he is optimistic about her survival and recovery but he could not say if that would be a full recovery.
Federal District Judge John M. Roll was shot and killed during the town-hall style event as well as a 9-year-old child.
The shooter has been identified as Jared Lee Loughner, a 22-year-old white male. Pima County Sheriff's officials said he used a semiautomatic weapon to carry out the shooting spree.
Authorities were poring over captured versions of a MySpace page that belonged to Loughner and over Youtube video published to the Internet weeks ago under an account linked to him. The MySpace page, which was removed within minutes of the gunman being identified by U.S. officials, included a mysterious "Goodbye friends" message published hours before the shooting and exhorted to his friends, "Please don't be mad at me."
FBI Director Robert Mueller was traveling to Arizona on Sunday to help coordinate the investigation, while the Pima County Sheriff's department released a photo of a possible accomplice it wanted to question, a white man with dark hair, 40-45 years old.
President Obama released the following statement:
"This morning, in an unspeakable tragedy, a number of Americans were shot in Tucson, Arizona, at a constituent meeting with Congresswoman Gabrielle Giffords. And while we are continuing to receive information, we know that some have passed away, and that Representative Giffords is gravely wounded," the statement read.
"We do not yet have all the answers. What we do know is that such a senseless and terrible act of violence has no place in a free society. I ask all Americans to join me and Michelle in keeping Representative Giffords, the victims of this tragedy, and their families in our prayers.," it concluded.
Newly elected House Speaker John Boehner released a statement that read, "I am horrified by the senseless attack on Congresswoman Gabrielle Giffords and members of her staff. An attack on one who serves is an attack on all who serve. Acts and threats of violence against public officials have no place in our society. Our prayers are with Congresswoman Giffords, her staff, all who were injured, and their families. This is a sad day for our country," it said.
In Tucson, University Medical Center spokeswoman Darcy Slaten said the congresswoman was in critical condition Sunday morning and sedated after undergoing two hours of surgery. Still, doctors said Giffords was responding to some commands, the AP reported.
"With guarded optimism, I hope she will survive, but this is a very devastating wound," said Dr. Richard Carmona, the former surgeon general who lives in Tucson.
Authorities said the dead included Roll, 63; Christina Greene, 9; Giffords aide Gabe Zimmerman, 30; Dorothy Morris, 76; Dorwin Stoddard, 76; and Phyllis Scheck, 79. Judge Roll had just stopped by to see his friend Giffords after attending Mass.
Giffords, 40, was re-elected to her third term last November. She was a member of the Arizona House and Senate before coming to Washington.
Giffords was elected to Congress amid a wave of Democratic victories in the 2006 election. The former state lawmaker won a narrow victory against a tea party favorite in the 2010 election.
The shooting comes amid a highly charged political environment surrounding the issues of health care and immigration that has seen several threats against lawmakers, but nothing that reached the point of actual violence.
Her Tucson office was vandlized a few hours after the House vote to approve the health care law in March, with someone either kicking or shooting out a glass door and window.
Law enforcement officials said members of Congress reported 42 cases of threats or violence in the first three months of 2010, nearly three times the 15 cases reported during the same period a year earlier. Nearly all dealt with the health care bill, the AP reported.
Giffords is a strong advocate of securing the border, however she was against Arizona's controversial immigration law.
She called the state law that targeted illegal immigrants "divisive" and "extreme" and said it does "nothing to make the communities I represent safer from smugglers and the dangerous spillover effects of border violence." She said she supports an immigration overhaul that would stiffen border security, impose tougher penalties against employers who hire illegal immigrants and create a guest worker program allowing foreign citizens to work seasonally in the United States.
"You know, actually as a former Republican, you know, I consider myself someone who is pretty in the middle, I'm a blue dog Democrat, and one that is interested in making sure that our country maintains our prosperity and frankly, our superiority over other countries and that's where we look at these threat, obviously our defense budget, our level of education," she said in an interview with Fox this week.
Giffords sent out a tweet before the tragic events unfolded. "My 1st Congress on Your Corner starts now. Please stop by to let me know what is on your mind or tweet me later," she wrote.
The Associated Press contributed to this report.
Follow us on twitter.com/foxnewslatino
Like us at facebook.com/foxnewslatino
https://www.foxnews.com/world/rep-gabrielle-giffords-critical