Mexico Releases Jailed US Trucker
By ,
Published December 16, 2016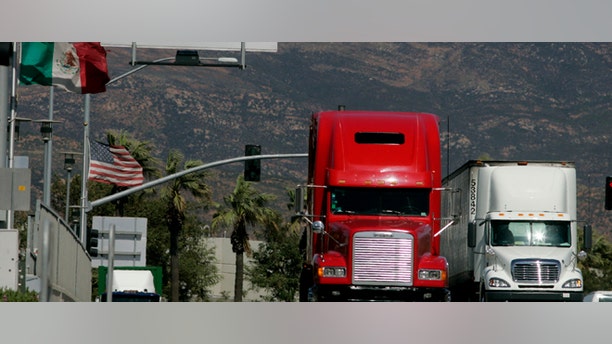 A Texas truck driver who says he made a wrong turn into Mexico with a trailer full of ammunition has been released from prison but remains in the custody of immigration authorities, U.S. officials said Friday.
The U.S. Embassy in Mexico said that 27-year-old Jabin Bogan was freed from a maximum security prison in the state of Veracruz. It did not say why immigration authorities were holding him, or when he is expected to return to the U.S., but Bogan likely is accused of violating immigration rules when he entered Mexico.
Bogan's family and lawyers declined to comment. He had faced up to 30 years in prison on an ammunition trafficking charge, but the judge reduced the charge to possession of ammunition after testimony from Mexican customs agents contradicted prosecutors' claim that Bogan hid 268,000 bullets under floorboards.
Bogan's mother, Aletha Smith, has told The Associated Press that the truck driver had been ordered to pay a fine in order to be released.
Bogan crossed from Texas into Juarez, Mexico, on April 17.
Agents testified in June that Bogan was trying to make a U-turn back into the U.S. when they found the ammunition bundled on top of wooden pallets inside the trailer.
Since then, Bogan's lawyers and family in the U.S. have cried foul, saying the ammunition charge was too hefty for what they claim was an honest mistake.
Bogan had made two deliveries in El Paso, Texas, and said he was supposed to drive to Phoenix to deliver assault rifle ammunition to a wholesaler there when he got lost. He said he took a wrong exit on the freeway and drove toward the border, where he said a law enforcement official told him to continue driving across the bridge. Bogan said that when he realized he had crossed into Mexico, he attempted to turn back, but the layout of the traffic lanes prevented him from returning without first crossing into the truck inspection area in Juarez.
Bogan's attorneys have said surveillance footage taken at the border crossing shows Bogan blocking several lanes of southbound traffic for more than half an hour while trying to maneuver his 18-wheeler back to U.S. soil.
Mexican prosecutors alleged he tried to clandestinely smuggle bullets commonly used by drug cartels.
https://www.foxnews.com/world/mexico-releases-jailed-us-trucker