Hugo Chavez Returns to Home State Following Cancer Treatment
By ,
Published December 12, 2016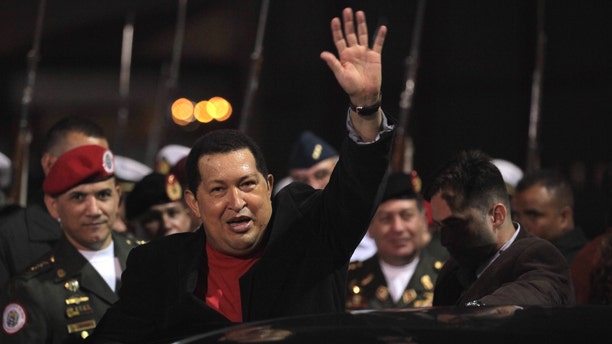 Following his latest round of cancer treatment in Cuba, Venezuelan President Hugo Chavez returned home.
Stepping off the plane Wednesday night, Chavez immediately embraced his mother and one of his daughters. The presidential jet touched down just before midnight in Chavez's home state Barinas, where his parents live.
Chavez has been recovering in Havana since undergoing surgery in February to remove his second cancerous tumor located in his pelvic region.
"So far, fortunately there hasn't been any adverse reaction to the treatment," Chavez said. "All the exams that have been carried out have shown positive results of physical recovery."
Even though he is not in the clear yet, the 57-year-old president has vowed to be healthy enough to run for re-election in October.
Chavez has been undergoing treatment since late March, doing his second round of daily radiation treatments this week. To prevent the cancer for remerging again, Chavez plans to do a total of five rounds of the treatments.
Amazon Opens Kindle en Espanol for Latino e-Readers
Before leaving Cuba, Chavez made sure to meet with his friend and mentor Fidel Castro as well as his brother, current President Raul Castro.
Since last June, Chavez has often expressed gratitude to the Castros for the care he has been provided in Cuba. This was not his first treatment in the country as last June the Venezulean president underwent his first surgery to remove another baseball size tumor.
Chavez has also been clinging to his religion lately as a form of support.
"Today I'm more Christian than ever, I've entrusted myself to the hands of Christ," he said. "I'm clinging to life and I ask God, Christ my lord, to continue giving us life."
While being vocal about the tumors, Chavez has not yet identified the type of neither cancer nor the precise location where the tumors have been removed.
The tumor in his pelvic region is the same type of cancer as a previous tumor extracted from that part of his body about seven months ago.
Based on Reporting by the Associated Press.
Follow us on twitter.com/foxnewslatino
Like us at facebook.com/foxnewslatino
https://www.foxnews.com/world/hugo-chavez-returns-to-home-state-following-cancer-treatment