World War II Ohio airman takes 'Sentimental Journey' on B-17
By ,
Published November 21, 2015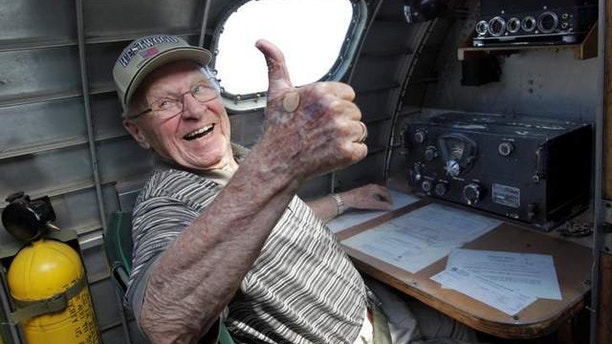 An Ohio World War II airman who was shot down and captured while flying aboard a B-17 over Europe made another trip on an identical vintage bomber Thursday.
Joseph Dreher, 88, flew 29 missions over Europe on a B-17 as a radio operator and waist gunner with the U.S. 8th Army Air Forces, The Cleveland Plain Dealer reported.
Dreher was taken prisoner after parachuting from his flak-damaged aircraft on his 29th and final mission -- an experience that did not deter him from returning to the skies once more.
The B-17 he flew aboard Thursday was the "Sentimental Journey," a bomber maintained by the Commemorative Air Force Arizona Wing Museum in Mesa, the newspaper reported.
"No doubts at all. It's a very dependable airplane. Besides, if you had to go, that'd be the way to go," Dreher joked.
The bomber was built in late 1944 and was accepted by the U.S. Army Air Force the following year. The aircraft was flown in the Pacific theater for the duration of World War II, according to the museum's website.
Dreher sat in the radio operator's seat as the bomber flew along the Lake Erie shoreline and recalled the day he made his escape out of the aircraft's hatch.
"Number two engine was on fire. The flames were shooting past this window, and that kind of encouraged me to go for the door," he told the Plain Dealer.
The aircraft, which underwent significant restoration after sitting on top of an Oregon gas station  for nearly three decades, will be featured at the Gathering of Eagles XVII Air Show in Willoughby, Ohio, on Saturday and Sunday.
"That was a nice ride, a very nice ride," Dreher told the Plain Dealer after his journey ended. "A beautiful day and a lot of memories. And the nice thing is, they weren't shooting at you."
Click here for more from The Cleveland Plain Dealer.
https://www.foxnews.com/us/world-war-ii-ohio-airman-takes-sentimental-journey-on-b-17