US Postal worker killed in shooting on Dallas highway
By Travis Fedschun, ,
Published February 19, 2018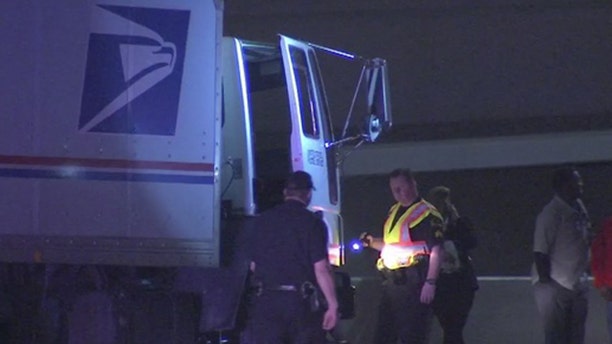 A postal truck driver was shot to death early Monday on a highway near downtown Dallas, officials said.
The Dallas Police Department said in a news release the shooting happened around 2:20 a.m. in the eastbound lanes of Interstate 30 near the interchange with Interstate 35E.
When authorities arrived at the scene, they found the worker -- identified as 58-year-old Tony Mosby -- dead in the cab of a truck that was riddled with bullets, according to FOX4.
The U.S. Postal Service is offering $50,000 to anyone with information that leads to an arrest in the shooting.
MASKED GUNMAN SHOOTS 4, INCLUDING 6-YEAR-OLD, OUTSIDE TEXAS ROADHOUSE IN SAN ANTONIO
Dallas Police closed a part of the highway for several hours to investigate the shooting, unload the postal truck, and tow it away from the scene.
In a separate incident earlier this month, authorities said a Dallas Police squad car was shot at around 2:10 a.m. on Feb. 8 about one mile from the shooting on Monday.
"At this this point in the investigation there is no evidence linking these two crimes," police said.
Investigators say no arrests have been made and that they're still trying to determine a motive in the shooting. The victim's name has also not yet been released.
The Dallas Police Department and United States Postal Inspectors are investigating the shooting, and are asking anyone with information to contact them.
The U.S. Postal Service operates two large mail sorting and processing complexes nearby, Amanda McMurrey, an inspector with the U.S. Postal Inspection Service -- the law enforcement and security arm of the USPS -- told the Associated Press. She said the federal agency is working with Dallas police in the investigation.
McMurrey had no immediate information on the employee's route, but she said it wasn't unusual for a postal service worker to be on the job before dawn.
"It is routine for postal employees to be making deliveries to stations and other post offices at that time," McMurrey said.
The Dallas Main Post Office, which includes a processing and distribution plant, is on the north side of I-30, she said. A USPS National Distribution Center is located on the south side of the highway, a main route connecting Dallas and Fort Worth.
Any charges in the slaying would be referred to federal prosecutors because the victim worked for a U.S. government agency, according to McMurrey.
The Associated Press contributed to this report.
https://www.foxnews.com/us/us-postal-worker-killed-in-shooting-on-dallas-highway