TSA finds record-breaking number of firearms in carry-on bags
By ,
Published March 01, 2017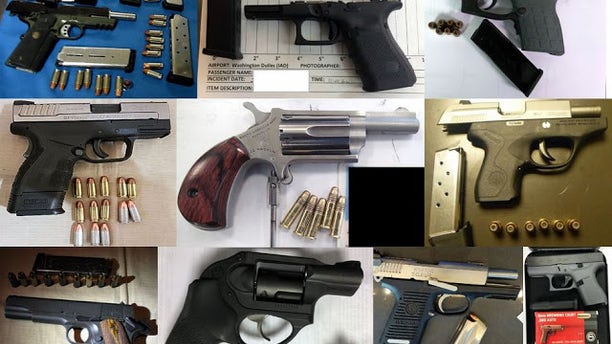 Airport security screeners found more firearms in carry-on bags one day last week than they ever had before on record: 21 across the country, the Transportation Security Administration reported on its blog Wednesday.
That number surpassed the previous record of 18, set in 2014. Over the course of the whole week, TSA confiscated 79 firearms in carry-ons nationwide, 68 of which were loaded and 21 had a round chambered, meaning a bullet was ready to be fired.
TSA DISCOVERS WOMAN'S CANE IS ACTUALLY A HIDDEN SWORD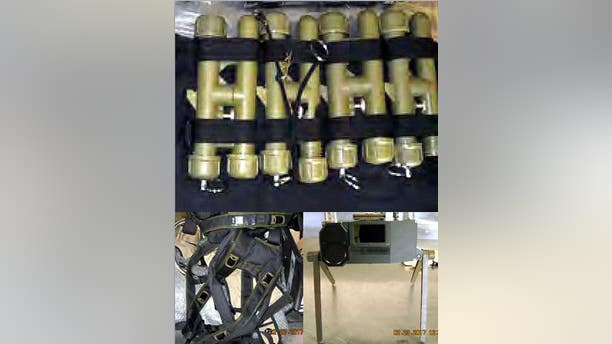 In addition to an abundance of guns, a realistic replica suicide vest and claymore mine were discovered in a traveler's checked bag at El Paso, Texas, which required attention from explosives detection professionals.
The vest and mine apparently were just training aids for an explosives ordnance disposal contractor. Still, the TSA warns they obviously don't belong on airplanes. Instructors traveling with these aids or anyone who deems these devices as novelty items should "plan ahead and find another way to transport [them]."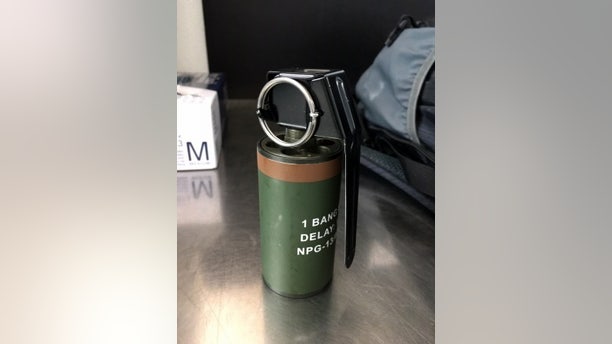 BELEAGUERED TSA AWAITS NEW DIRECTOR AS GLITCHES MOUNT
A live smoke grenade, a stun cane, a loaded magazine (with 10 rounds of .45 caliber ammunition), and a variety of knives were also found at security checkpoints throughout the week. TSA officers often find other objects such as brass knuckles, ammunition, batons, stun guns and more on a weekly basis.
The TSA claimed these finds were  "all too frequent" and hoped travelers would "familiarize themselves with state and local firearm laws." One important law: Firearms can travel in checked baggage, but they must first be declared to the airline.
The agency ran into trouble of its own last week, after police said 11 passengers managed to stroll right through an open and unattended checkpoint at New York's JFK Airport. The TSA promised to take "appropriate action."
https://www.foxnews.com/us/tsa-finds-record-breaking-number-of-firearms-in-carry-on-bags