Report: Cop Says Lacrosse Murder Suspect Once Threatened to 'Kill' Her
By ,
Published November 29, 2015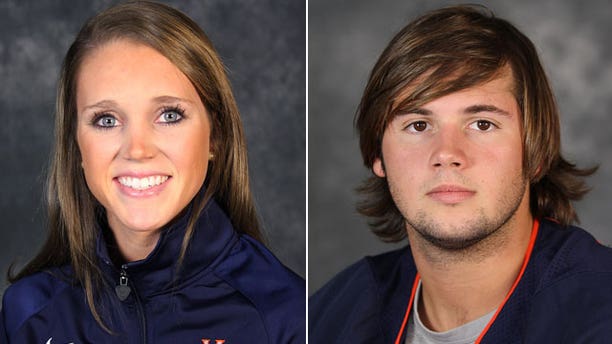 The University of Virginia lacrosse player accused of murdering a member of the women's team once threatened to kill a female police officer when he was taken into custody for resisting arrest, it was reported on Wednesday.
George Huguely, 22, has been charged with first-degree murder in the death of Yeardley Love, 22, who was found dead Monday in her off-campus apartment. A Charlottesville, Va., police affidavit released Tuesday describes a violent scene at Love's apartment, in which Huguely allegedly shook his former girlfriend and slammed her head repeatedly against a wall.
Police records show Huguely, a popular athlete from a well-to-do family in Chevy Chase, Md., was no stranger to the police. The 6-foot-2 athlete was arrested in 2008 after a physical altercation with a Lexington, Va., female police officer, during which he shouted "obscenities" and became "combative" toward her, Lexington Police Chief A.S. Thomas told FoxNews.com.
Huguely threatened to kill Officer R.L. Moss, WTVR reported Wednesday, before Moss used a stun gun to shock him. Huguely then "became more aggressive, more physical towards me," Moss said, according to the station.
Thomas said officers responded to a 911 call on Nov. 14, 2008, outside a house near the campus of Washington & Lee University. He said Huguely was visibly intoxicated when officers arrived and was "stumbling on to oncoming traffic in the street."
When Moss approached Huguely and placed him under arrest for public intoxication, he physically resisted arrest and threatened her.
In a statement released Tuesday, Moss said that she felt it necessary to "Tase" Huguely, who was physically much larger than she was. He was "yelling obscenities and making threats," Moss said.
Huguely pleaded guilty to two charges last year, was placed on six months of probation and given a 60-day sentence, which was suspended.
Huguely was also charged with possession of alcohol by a minor in 2007 in Palm Beach County, where his family has a home in Manalapan, The Washington Examiner reported.
A year later, a Palm Beach County Sheriff's Office report details an incident in which Huguely got into a "very heated" argument with his father and cousin on a 40-foot fishing boat.
Deputies said Huguely wanted to go back to the beach, but his father would only take him home, so he dove into the Atlantic Ocean to swim the quarter-mile to shore. A passing vessel reportedly picked him up and no arrests were made.
Love, a senior, was found face-down on her bed in a pool of blood Monday, with one eye swollen shut and a large bruise on her face that appeared to have been caused by "blunt force trauma," according to authorities.
Huguely told police that he had an altercation with Love and had kicked in her door, according to the affidavit. The document also says the door leading to Love's bedroom had been forced open by what appeared to be a "fist punching through the door." Police observed hairs in the hole of the wall, the affidavit says, and Huguely had an injury on his right leg "consistent with kicking an object, such as a door."
A crimson-stained Cavaliers lacrosse jersey was reportedly removed by police from Huguely's apartment. Police also confiscated other items, including two white Apple laptop computers, a bathroom rug, two white socks, a shower curtain and a green spiral notebook, according to the DailyProgress.com.
Huguely told investigators he had communicated with Love by e-mail, and he took her computer from her apartment and disposed of it, the affidavit says.
Charlottesville Police Chief Timothy Longo said Huguely has no police record for abuse, but he said investigators planned to interview fellow players and friends about the nature of his relationship with Love. He said authorities are investigating whether any death threats were made against the woman.
Family and friends told Fox News on Wednesday that Huguely once tried to physically attack Love in a public place.
An autopsy on Love was concluded in Richmond, and Longo said investigators had passed along "pieces" of information. But he said he would not release details until he has the official report from the medical examiner.
FoxNews.com's Cristina Corbin, Fox News' Shannon Bream and the Associated Press contributed to this report.
https://www.foxnews.com/us/report-cop-says-lacrosse-murder-suspect-once-threatened-to-kill-her