Las Vegas shooter reportedly used hotel freight elevator as high-rolling perk
By ,
Published October 11, 2017
A Las Vegas bellhop may have unwittingly helped Stephen Paddock carry his arsenal of weapons and ammunition up a freight elevator Paddock accessed through a special hotel perk and into the out-of-view 32nd-floor suite Paddock used to rain down mayhem on a country music concert crowd.
An unidentified hotel worker – at least twice – helped Paddock with his belongings, although authorities have yet to identify any abnormalities in the gunman's behavior after reviewing hotel security footage from the lead-up to the Oct. 1 attack, the Las Vegas Review-Journal reported Tuesday.
It wasn't immediately known what was contained in the luggage the bellhop assisted Paddock with, or if guns or ammunition used by Paddock during the rampage were inside.
The report emerged around the same time sources revealed to ABC News that Paddock received an unusual perk for being a high-roller: access to the Mandalay Bay Resort's massive service elevator, an advantage Paddock reportedly did take advantage of.
Officials briefed on the ongoing investigation told the station the perk is given to the casino's top players, but no information was available on when Paddock used the elevator or why he did so.
LAS VEGAS SHOOTER'S HOME BROKEN INTO DESPITE INTENSE FBI, POLICE INTEREST
Meanwhile, MGM Resorts, the owners of Mandalay Bay, and Las Vegas police are at odds over how the deadliest shooting in U.S. modern history unfolded.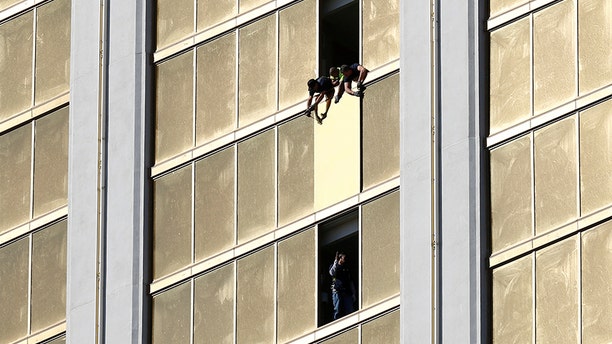 "This remains an ongoing investigation with a lot of moving parts. As evidenced by law enforcement briefings over the past week, many facts are still unverified and continue to change as events are under review," MGM Resorts International spokeswoman Debra DeShong said in a statement Tuesday. "We cannot be certain about the most recent timeline that has been communicated publicly, and we believe what is currently being expressed may not be accurate."
The statement, however, did not specify what elements of the timeline MGM Resorts believes may be inaccurate.
Clark County Sheriff Joe Lombardo said Monday that Paddock shot and wounded a Mandalay Bay hotel security guard outside his hotel room door and sprayed 200 bullets down the hall six minutes before he opened fire from his high-rise suite on a crowd at a country music festival below.
That was a different account from the one police gave last week: that Paddock shot the unarmed guard, Jesus Campos, after unleashing his barrage of fire on the crowd.
Adding to the confusion: there are no surveillance cameras in the floor's hallway, but only on elevator banks, and the timestamps on the hotel's communications systems in some cases may have been off, Clark County Assistant Sheriff Tom Roberts told the Los Angeles Times Tuesday.
FULL COVERAGE OF LAS VEGAS SHOOTING
Roberts said Campos "called it in" to hotel security before Paddock started firing out the window of his room.
"This is amazing and shocking that they didn't respond faster"
"He manually called down and he used his radio to call…That's what we were briefed this morning," Roberts told the Los Angeles Times, adding officials hope to release a complete timeline on Friday.
But Lombardo said Monday officers weren't even aware of Campos' situation until they arrived on the 32nd floor 18 minutes after he was shot, raising doubts resort security relayed the message to police.
Even more damning: Roberts, in his interview, said the hotel dispatched its own armed security team that arrived "right around the same time" as Las Vegas officers.
An attorney who is planning legal action against MGM Resorts International said the new revelations about the timeline suggest Mandalay Bay's "incompetence."
"We are talking six minutes here. This is amazing and shocking that they didn't respond faster," Richard A. Patterson, who has filed legal papers to prevent the distribution of Paddock's assets on behalf of victim John Phippen's family, told the Los Angeles Times.
He added: "I think everybody's question is, what if they had gotten there? There are high-speed elevators to the 32nd floor. A couple of minutes makes all the difference. At the very least, they could have distracted the killer. Maybe they could have prevented it."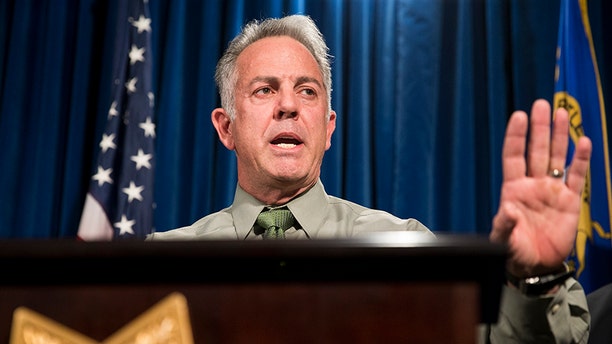 Nicole Rapp, who told The Associated Press her mother was knocked to the ground by panicked concertgoers as shots rang out, said she's "having a hard time wrapping my head around" why police are changing the timeline of the attack.
"It's very confusing to me that they are just discovering this a week later," she said. "How did we not know this before? It's traumatic for the victims and their families not to be sure of what happened."
Officer Larry Hadfield, a spokesperson for the Las Vegas Metropolitan Police Department, told Fox News on Tuesday the information authorities release is what they know at the time and everything is subject to change as the investigation develops.
Ron Hosko, a former FBI assistant director who has worked with SWAT teams, told The Associated Press Wednesday that the six minutes that passed between the hallway shooting and the concert attack wouldn't have been enough time for officers to prevent it.
"Maybe that's enough time to get the first patrolman onto the floor but the first patrolman is not going to go knock on that customer's door and say 'What's going on with 200 holes in the door?"' Hosko said.
Roberts told the Los Angeles Times some Las Vegas officers were already inside Mandalay Bay responding to an unrelated call when the shooting broke out.
He said he believes Campos "disrupted the subject, interrupted him."
"The fact the security guard did what he did, when he did it, shortened the amount of time that he was going to be shooting on the crowd, in my opinion. It moved up his timeline," Roberts said.
Las Vegas Metropolitan Police Department Undersheriff Kevin McMahill echoed a similar sentiment.
"I'm confident that he was not able to fully execute this heinous plan and it certainly had everything to do with being disrupted not only by security and maintenance but by the rapid response of the men and women of Metro," he said in an interview with KNPR.
Stephen Schuck, identified by NBC as a hotel maintenance worker, credited Campos with saving his life.
"When the first shooting started, I was kind of frozen for a second," Schuck told NBC on Wednesday. "He yelled at me, 'Take cover! Take cover!' If he yelled a second too late, I would have been shot."
"As soon as I started to go to a door to my left the rounds started coming down the hallway," Schuck said. "I could feel them pass right behind my head. 
"It was kind of relentless so I called over the radio what was going on," he added. "As soon as the shooting stopped we made our way down the hallway and took cover again and then the shooting started again."
Police have not yet revealed a motive for the attack.
One of the victims, 21-year-old Paige Gasper, became one of the first to file a lawsuit against MGM Resorts International over the shooting.
https://www.foxnews.com/us/las-vegas-shooter-reportedly-used-hotel-freight-elevator-as-high-rolling-perk