Gangster 'Whitey' Bulger's possessions fetch more than $100G at auction
By ,
Published June 26, 2016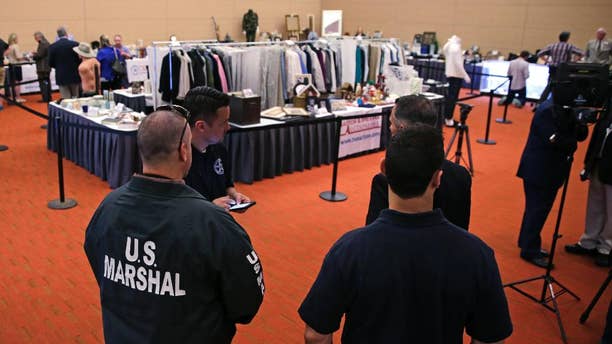 Former Boston mob boss James "Whitey" Bulger's belongings fetched more than $100,000 in a court-ordered auction Saturday, with the proceeds benefitting families of his victims.
Bulger, who was recently portrayed by the actor Johnny Depp in the film "Black Mass" was convicted in 2013 of committing or ordering 11 murders, among other crimes, and was sentenced to two life terms in federal prison.
According to the Boston Globe, some of the items up for sale included Bulger's boxing mannequin (sold for $4,900), size 9 1/2 Asics sneakers (never worn, $55), a rat-shaped pencil holder ($3,600), and the white bucket hat Bulger was wearing when federal agents captured him in 2011 ($6,400).
The Globe reported that the pencil-holder drew extra interest due to Bulger's several years as a FBI informant, during which he was spared investigation for his many crimes.
John Kelley, who bought the mannequin, told the Globe his bid was aimed at helping the victims' families, not glorifying Bulger.
"People got hurt," he told the paper. "The money will help them out. We're just here to support the families."
Some of the items, including an engagement ring, belonged to Bulger's longtime girlfriend Catherine Greig, who was arrested with Bulger and sentenced to eight years in prison for harboring a fugitive. In April, she was sentenced to an additional 21 months in jail for refusing to testify before a grand jury about whether others assisted the couple while they were fugitives.
Patricia Donohue, whose husband was killed by Bulger in 1982 called the auction a "glorified yard sale".
https://www.foxnews.com/us/gangster-whitey-bulgers-possessions-fetch-more-than-100g-at-auction