Embattled Maine town manager fired after white supremacist firestorm
By Lucia Suarez Sang, ,
Published January 23, 2018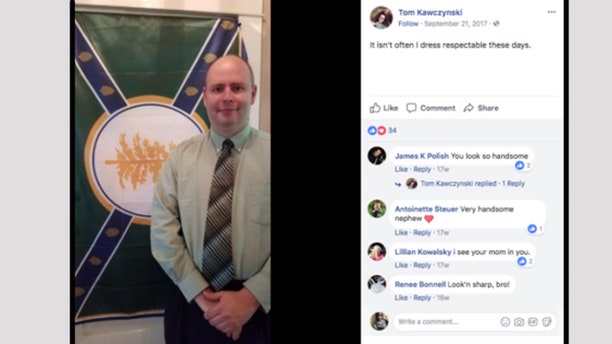 A Maine town manager who sparked a firestorm of controversy after he was outed as the operator of a website that promotes voluntary racial segregation and blasts Islam was fired.
The Board of Selectman in the rural, western Maine town of Jackman unanimously voted Tuesday to dismiss the town's top administrator, Tom Kawczynski, four days after he came under fire for his racially insensitive comments on the website.
It was reported Friday that Kawczynski was the leader of New Albion, a racial segregationist movement that wants to preserve the white majority of northern New England. He also operates a website that touts racial segregation and states it's time to "admit America was built by white Christian men."
"I am not a white supremacist. I am not a racist," he told the Portland Press Herald. "What gets me in trouble sometimes is I am a white person who is not ashamed to be white."
On Monday night, he posted on the right-wing social media network Gab: 'Wish me luck tomorrow. It will be a challenging day, but I'm going to do my very best. Prayers welcome as always."
In an interview with True Capitalist Radio on Monday, he again denied he was a white supremacist.
"I am not fighting against anyone. I have no hatred… I just believe that people like me deserve to get a fair shake," he said, adding that the country has become too politically correct. "It is the responsibility and social contract of our government to spend money on the American people."
Kawczynski, 37, was hired as town manager last summer. He previously served as town chair in Lisbon, New Hampshire, for President Donald Trump during the 2016 campaign.
As the controversy swirled, he said he expected to be fired but refused to quit.
Jackman, a town of less than 900 people near the Quebec border, is about 170 miles north of Portland, located along a stretch of road Mainers sometimes call "Moose Alley." The town's website describes Jackman as a "tourist-friendly region," and some residents have said they feared the controversy over Kawczynski's views could keep people away.
The Associated Press contributed to this report.
https://www.foxnews.com/us/embattled-maine-town-manager-fired-after-white-supremacist-firestorm