28-pound rainbow trout caught in northern Idaho would have been record-breaker
By Edmund DeMarche, ,
Published May 03, 2016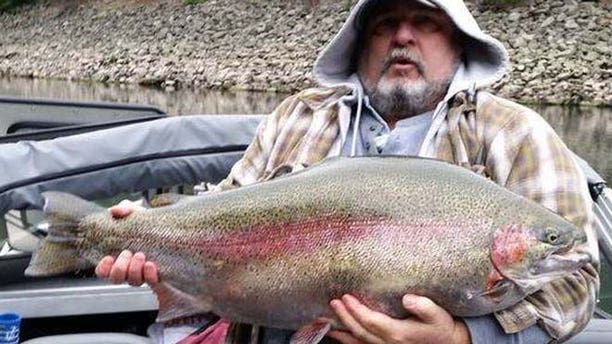 A 28-pound rainbow trout was caught in a northern Idaho river last week—which would have been the largest in state history-- but it had to be released due to state laws protecting the threatened species.
"It's the biggest rainbow trout I've seen," Steve Liebenthal, the public information specialist from Idaho Fish and Game, told FoxNews.com.
The fish was hauled in on Jan. 8 by angler Larry Warren on the idyllic Clearwater River.
The catch was remarkable. Biologists took a look at the photo and confirmed that the fish did appear to weigh around 28 pounds and guessed that it was somewhere around seven years old.
"We have no reason to believe this fish weighed any less than reported," Liebenthal said.
Warren caught the fish using a six-pound test line, OutDoorHub.com reported.
The largest rainbow trout in the state was recorded in 2009 and weighed 20 pounds, KBOI2.com reported. This fish would demolish the record, but was not weighed on a state-certified scale.
A steelhead trout is a rainbow trout longer than 20 inches. These fish with a clipped adipose fin-- which is located behind its dorsal fin-- may be kept in other waters in the state. This particular fish's adipose fin was intact so it was required to be set free. The fish was also protected because it was caught on a river that mandated throwing the species back. Steelheads, indeed, are considered to be "threatened," under the Endangered Species Act.
"That's probably why it grew so large," Liebenthal said.
https://www.foxnews.com/us/28-pound-rainbow-trout-caught-in-northern-idaho-would-have-been-record-breaker