Baltimore man, daughter face murder charges in Texas in alleged charity-gone-wrong lie
By Brie Stimson
Published March 21, 2019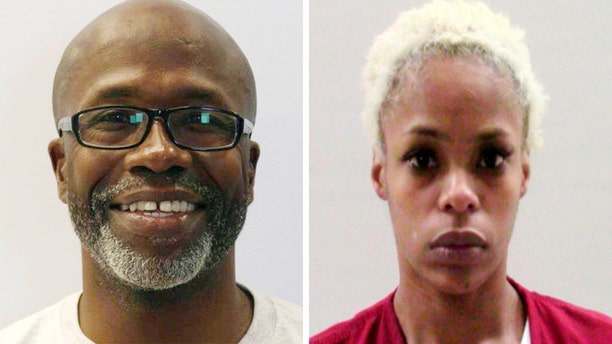 A father and daughter from Baltimore arrived in a Texas courtroom Thursday to face first-degree murder charges after the man allegedly lied to police last December, saying his wife was killed when she gave money to a panhandler on the street, The Associated Press reported.
The story went viral at the end of last year as a cautionary tale of "charity-gone-wrong." Keith Smith and his daughter, Valeria, 28, reportedly did tearful media interviews and even lobbied the city of Baltimore to ban panhandling.
PROSECUTORS CLEAR DEAD SERIAL RAPIST OF 1983 FLORIDA MURDER
Jacquelyn Smith, 54, was found stabbed to death in her car on Dec. 1 last year in Baltimore. Smith allegedly told police that he lowered his wife's passenger window so she could give the money to a young mother with a baby. He then allegedly said a man approached the car, stabbed her and stole her wallet.
Keith Smith and Valeria Smith were arrested in a Texas border town on March 5 while allegedly fleeing to Mexico, police said. Valeria Smith's attorney, Brandon Mead, claims they were just planning a vacation to Mexico. "You get a chance to go to Mexico, you say yes," Mead told WJZ-TV in Baltimore.
Keith Smith's lawyer told reporters the forensics in the case are questionable and they have not seen the Baltimore Police Department's evidence of probable cause.
Police believe Jacquelyn Smith was about to divorce her husband of five years, and charging documents state a friend of Keith Smith told police that Smith asked his brother to "get rid of Jacquelyn," The Associated Press reported.
CLICK HERE TO GET THE FOX NEWS APP
Police also reportedly told Keith Smith in an interview that cell phone evidence showed he and his daughter had driven into a wooded parking lot the night his wife was killed. Immediately afterward, police said they moved to Florida.
Both were denied bail.
The Associated Press contributed to this report.
https://www.foxnews.com/us/2-tied-to-charity-gone-wrong-story-arrive-in-baltimore