Passengers shoved cat into carry-on luggage, say airport police
By Michael Bartiromo, ,
Published January 09, 2018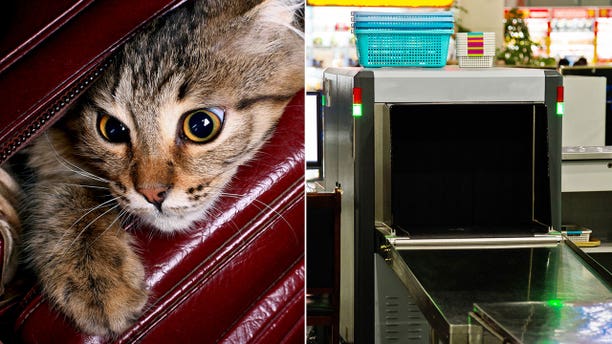 A couple from North Port, Fla., was cited for animal cruelty last week after they were caught trying to smuggle a live cat through airport security inside their luggage.
Olivia Sari and Nicholas M. Larrison, both 21, were flying back down to Tampa following a holiday trip to Erie, Penn., on New Year's Day when the airport's baggage detection system noticed something amiss about their carry-on luggage, reported the Erie Times-News. Security airport officials then opened the bag to find a 6-month-old female cat named Slim packed among the couple's clothes and travel items.
FAMILY REUNITES WITH CAT WHO WAS LOST FOR 15 YEARS
Both Sari and Larrison were cited for "transporting animals in a cruel manner," which included packing Slim into the luggage without "food, water or air," according to a police report.
"A poor decision made on the customers' part," remarked Ian Bogle, the director of public safety and facilities at the Erie International Airport.
"Twenty-eight years I've been here. I've seen some unique things. I've been involved in plenty of unique things. This is a first," said Bogle, reported the Times-News.
ESSENTIAL SELF-DEFENSE TECHNIQUES ANYONE CAN LEARN
Sari and Larrison have yet to enter a formal plea. They returned to Florida without Slim, who was handed over to the Humane Society of Northwestern Pennsylvania, the Times-News reported.
Oddly enough, this isn't the first time a cat was put through the baggage detection system at an airport. In 2008, a 10-month-old cat from Florida named Gracie Mae stowed away into her owner's suitcase, and was only discovered after another traveler — who got the suitcase by mistake — opened up the luggage, which had already been transported to Fort Worth, Texas.
FOLLOW US ON FACEBOOK FOR MORE FOX LIFESTYLE NEWS
"I went to unpack and saw some of the clothes and saw it wasn't my suitcase," said the man who discovered Gracie Mae in 2008. "I was going to close it, and a kitten jumped out and ran under the bed. I screamed like a little girl."
https://www.foxnews.com/travel/passengers-shoved-cat-into-carry-on-luggage-say-airport-police