Like Facebook? You'll Love the Facebook Book
By Loren Grush, ,
Published November 04, 2015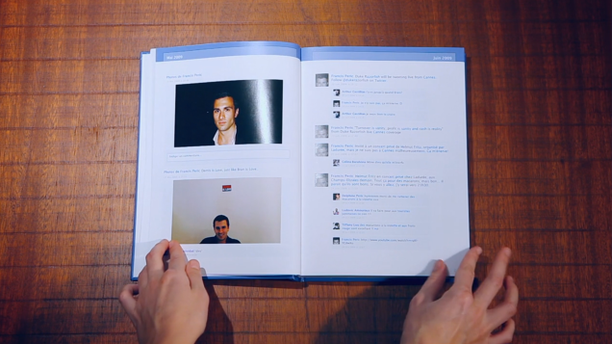 A new Facebook application is bringing the famous social-networking site full circle.
The tool lets people take Facebook literally, creating hardcover versions of Facebook profiles -- think "Facebook in a book." The idea came from creative director Siavosh Zabeti, when French telecommunications company Bouygues Telecom recruited his ad agency DDB Paris to help launch the company's Facebook platform.
Zabeti said he wanted to bring permanence to social networking.
"We didn't want to create something that would last two weeks," Zabeti told FoxNews.com. "We wanted to create something that you could put on your coffee table and would last forever. You do so many things on the social network, but then you easily forget about it. So we wanted to sustain those memories."
The application lets Facebook users set their own parameters: Users can choose up to 10 friends to include in the book and the timeline they'd like it to cover. The app then pulls pictures, status updates and comments from the user's newsfeed and compiles them into a hardcover book -- with a cover colored that signature Facebook shade of blue. Users even have the option to take out the embarrassing photos they aren't so eager to remember.
According to Zabeti, the first batch of books sold out within an hour of the application's launch. And at first, the books shipped free of charge only within France -- but Zabeti may soon need to broaden his horizons.
"It's been great, people love it," he said. "We're definitely going to run a new batch soon. I've had tons of e-mails from people all over the world asking if they can get a copy."
For those who think having two versions of Facebook (one an actual book) may seem a bit redundant, Elizabeth Phelps, a professor of psychology at NYU, said that memories are less likely to fall by the wayside if a person has several avenues for recalling them.
"The more different ways you can encode something, the more likely you are to later remember it," Phelps told FoxNews.com. "Every time you're interacting with something, you get a different memory. So the more you can put it together, the more flexible the memory becomes."
Zabeti simply stresses that because Facebook has become so ingrained in our daily lives, it's important not to let our interactions on the social network get lost in the virtual abyss.
"Facebook has become so ubiquitous: You ask people out on Facebook, you accept invitations to dinner parties, you announce you're engaged on Facebook before you even tell your friends," Zabeti said. "Since it's so important to our lives, it's important to have a tangible version of it so you can stimulate more senses than just one."
"It's better to touch your memories and look them over again and again than see them once and just forget about them," he said.
https://www.foxnews.com/tech/like-facebook-youll-love-the-facebook-book