Bronze Age cemetery discovered at ritual site in Wales
By James Rogers, ,
Published June 23, 2017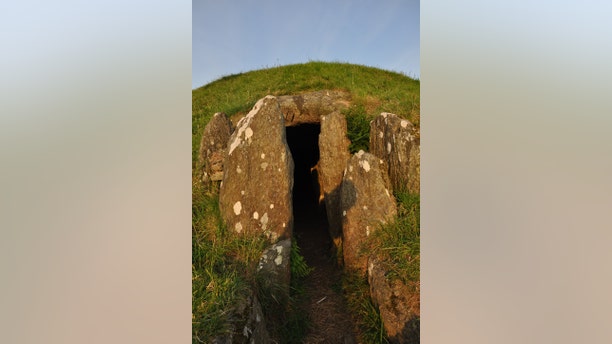 Archaeologists have discovered a Bronze Age cemetery at a ritual site on the Welsh island of Anglesey.
The cemetery is located near to Bryn Celli Du or 'Mound in the Dark Grove,' a Late Neolithic passage tomb that dates back around 5,000 years. The newly-discovered burial sites are said to date from the Late Neolithic to the early Bronze Age, which began around 3,200 B.C in Europe.
Experts from Manchester Metropolitan University, the University of Central Lancashire and Cadw, the Welsh government's historic environment service, have been working on the area for the last three years.
YALE ARCHAEOLOGISTS MAKE AMAZING ANCIENT EGYPTIAN 'BILLBOARD' DISCOVERY
Harnessing technology, archaeologists have found a series of cairns or man-made piles of stones, indicating other burials near Bryn Celli Du. "We've discovered that Bryn Celli Ddu, which is an amazing monument in its own right, is not alone in its landscape," explained Ben Edwards, senior lecturer in Archaeology and Heritage at Manchester Metropolitan University, in an email to Fox News. "It seems to have been the focus for a cluster of burial monuments (a cairn cemetery) that probably grew up around it because it was such a significant site."
Edwards added that researchers conducted geophysical surveys of the site, as well as deploying magnetometers and ground penetrating radar to reveal the burial mounds. "We've now excavated two of these, proving the existence of the cairn cemetery," he wrote. "We've also excavated a cluster of prehistoric pits that show the deliberate ritual deposition of pottery - something common in the Neolithic period 4000 - 2200BC when Bryn Celli Ddu was built."
Archaeologists have identified a total of four burial cairns and evidence of ritual activity. "This means that Bryn Celli Ddu can be compared to the great Irish tomb complexes of the Boyne Valley like Loughcrew and Newgrange - which are similar in style and not all that far across the Irish Sea from Anglesey," Edwards wrote. "We haven't recovered any burials, as the cairns are badly damaged and now beneath the ground, but they could have held several individuals each."
900 YEAR-OLD JEWELRY FOUND IN CRUSADER CASTLE
Described as one of the most evocative monuments in Wales, a key feature of Bryn Celli Ddu is that on the longest day of the year, a beam of light is cast down the site's passageway, lighting up the chamber.
"We know that Bryn Celli Ddu sits in a much more complicated landscape that previously thought," explained Seren Griffiths, lecturer in archaeology at the University of Central Lancashire, who is involved in the excavations. Other discoveries at the site over the last three years include 10 new rock art panels.
"Since we started the project we have discovered that Bryn Celli Ddu was never in isolation, there was activity happening all around," added Ffion Reynolds of Cadw, in a statement. "We knew this would be a good project but it's turning out to be very exciting."
This year's excavations at the site began June 11 and end on Saturday.
Follow James Rogers on Twitter @jamesjrogers
https://www.foxnews.com/tech/bronze-age-cemetery-discovered-at-ritual-site-in-wales