Ryder Cup spectator hit by Brooks Koepka's shot blinded in one eye and plans to sue organizers
Published October 02, 2018
The woman hit in the face by a Brooks Koepka shot at the Ryder Cup says she has been left permanently blind in her right eye.
Corine Remande, 49, says her "eyeball exploded" after being caught by the American's drive on the sixth hole on the tournament's opening day on Friday.
Medics rushed to her aid in front of concerned onlookers before she was taken to hospital.
She was later transferred to the Croix-Rousse facility in Lyon.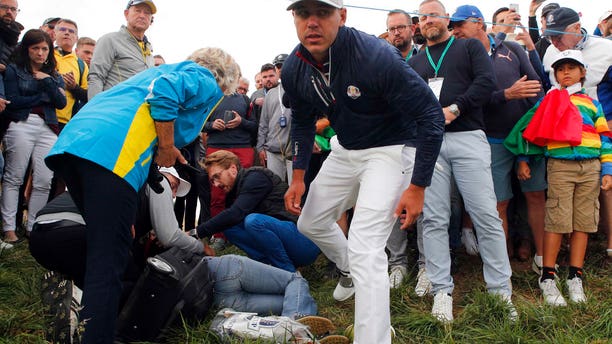 Now the female golf fan is planning to sue organizers after doctors told her she will never be able to use her eye right again.
Remande told AFP: "It happened so fast, I didn't feel any pain when I was hit. I didn't feel like the ball had struck my eye and then I felt the blood start to pour.
"The scan on Friday confirmed a fracture of the right eye socket and an explosion of the eyeball."
https://www.foxnews.com/sports/ryder-cup-spectator-hit-by-brooks-koepkas-shot-blinded-in-one-eye-and-plans-to-sue-organizers