Rise of the Sanchize: The Jets' Mark Sánchez Is the NFL's Latino Franchise Player
By ,
Published December 16, 2016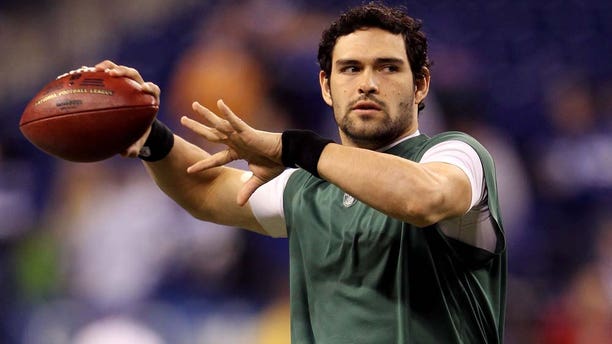 Mark Sánchez has the potential to be the first quarterback to lead the Jets to a Super Bowl since Joe Namath.
And like Namath, he has the charisma necessary to be the face of a sports team in the nation's largest media market.
But while Broadway Joe was a persona, Sánchez is a franchise. Scratch that, the "Sanchize."
It seems an almost unbelievable stroke of luck – fate, if you believe in such things – that arguably the most famous Latino athlete around has a surname that plays so beautifully into New York tabloid headlines. Even more fitting is just how perfectly such a moniker captures the 24-year-old star.
Mark Sánchez doesn't just represent the future of the New York Jets or the next generation of the superstar quarterback in the NFL. He represents the next generation of Latino superstars in America.
Much was made when, as a quarterback at the University of Southern California, Sánchez wore a mouthguard depicting the Mexican flag. But as much as some people want to believe, it wasn't a political statement any more than the average high school kid wearing a Ché T-shirt, or a young woman carrying a handbag bearing the image of la Virgen de Guadalupe.
It was a nod to his heritage, but it wasn't an all-encompassing declaration of who he was.
He grew up speaking English, but speaks decent Spanish and understands it pretty well. In other words, he's just like literally millions of other U.S. Hispanic millennials.
He's the face of the Latino quarterback for a generation who doesn't remember Joe Kapp or Jim Plunkett. Or, let's be honest, for kids who don't even realize the aforementioned players are Latino.
What makes Sánchez so relatable to so many is that he embraces the Latino label, yet refuses to be singularly defined by it.
Like learning to be a successful quarterback, it's a position that's taken time to define.
It's hard to believe it's been only five years since Sánchez stepped onto the USC campus as a redshirt freshman. Or that his college career was almost derailed by sexual assault allegations.
Sánchez never wavered in declaring his innocence, and the charges were dropped because of a lack of sufficient evidence. That brief appearance on the police blotter is the only blemish on what he's built up to be a "good guy" reputation.
Sánchez also is the same player who served a season and a half as backup to the guy who had been Matt Leinart's backup, John David Booty. Neither of them have been a fraction as successful in the NFL as Sánchez has proven to be.
After a breakout 2008, Sánchez caught a break as the top three quarterbacks in college – 2008 Heisman Trophy winner Sam Bradford, 2007 winner Tim Tebow and two-time finalist Colt McCoy – opted to return to school.
Sánchez had the opening to become one of the top quarterbacks in the 2009 draft. Going against the advice of then-Trojans coach Pete Carroll, Sánchez made the leap to the NFL. And the Jets made a deal with Cleveland – and recently fired coach Eric Mangini – to jump 12 spots to land him at No. 5. The price was a first-round pick (No. 17), a second-rounder (No. 52) and three journeymen.
With two AFC championship appearances in two years – the Jets face the Steelers in Pittsburgh this Sunday – New York looks like they got a steal.
Despite questions about Sánchez's readiness for the NFL, the quarterback became the first rookie in history to go 3-0 in his first three starts. Aided by a strong Jets defense, he went on to win his first two playoff starts and came back a year later to help his team to an 11-5 regular-season record.
This postseason, he's boasted wins over Indianapolis Colts' Peyton Manning and New England Patriots' Tom Brady, and now is gunning for the ultimate trifecta of Ben Roethlisberger, the Steelers' franchise quarterback.
The face of the NFL quarterback is changing. Brett Favre is retiring (we think). Manning and Brady are in the second half of their careers. There's an opportunity for a new star to emerge.
Sánchez appears to be born for the job. He has shown a knack for winning big games and demonstrated the poise necessary to play a prominent role in the future of the league.
Still, the truth is no matter what Sánchez accomplishes, there will always be fans touting him as one of the greatest quarterbacks of all time, and those claiming he's overrated. Just as there will always be Americans who resent him for not being "American" enough, and Mexicans who complain that he's not "Mexican" enough.
In the end, one thing tends to win everyone over – winning.  Like Namath, the only true Jets franchise quarterback before him, Sánchez has shown an ability to do just that.
Maria Burns Ortiz is a freelance sports journalist, chair of the National Association of Hispanic Journalists' Sports Task Force, and a regular contributor to Fox News Latino.
Follow us on twitter.com/foxnewslatino
Like us at facebook.com/foxnewslatino
https://www.foxnews.com/sports/rise-of-the-sanchize-the-jets-mark-sanchez-is-the-nfls-latino-franchise-player