Cabrera to Miss a Week with Broken Bone
By ,
Published December 11, 2016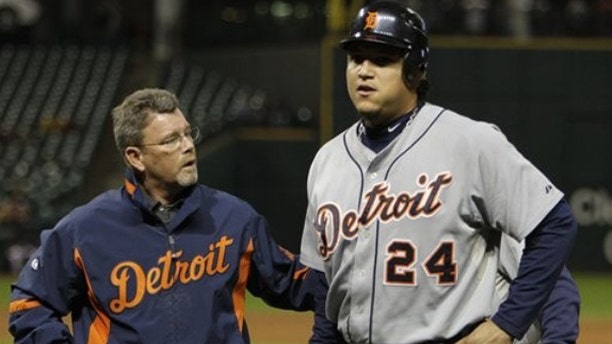 Detroit Tigers third baseman Miguel Cabrera was left with a broken bone below his right eye after being hit by a bad-hop ground ball, taking him out of action for at least a week.
Cabrera hopes to be ready for opening day.
The AL Central champions start April 5 at home against Boston, giving Cabrera less than two and a half weeks to recover.
"Hopefully, I'll be ready to open the season," Cabrera said Tuesday.
Cabrera had little chance Monday on a hard shot by Philadelphia's Hunter Pence that caused a bloody gash and required eight stitches. The Tigers shifted their biggest hitter across the diamond this year to make room for new first baseman Prince Fielder, acutely aware Cabrera earns his money with a bat, not a glove.
Cabrera was wearing sunglasses when he and Tigers President Dave Dombrowski addressed the injury in the right-field corner at Joker Marchant Stadium before Detroit hosted Atlanta.
Dombrowski called Cabrera's vision "perfect."
"We'll know a lot more in a week," Dombrowski said. "If he wants to go relax he can go home, and he's always welcome here."
But Cabrera remained upbeat: "I am confident I can play on opening day," he said.
Cabrera last played third base in 2008, when he started 14 games for Detroit. He was the Marlins' full-time third baseman in 2006, and then again in 2007, when made 23 errors and had a .941 fielding percentage.
Cabrera has been doing all right at the spot this spring. He's doing even better at the plate — after hitting a major league-leading .344 last year with 30 home runs and 105 RBIs, he was batting .433 with three doubles, a home run and four RBIs in 30 exhibition at-bats.
Lately, Cabrera has been experimenting with wearing sunglasses in the field, a suggestion from fellow Tigers infielder Ramon Santiago.
Pence's grounder at the Phillies' field shattered Cabrera's shades.
"There's no question that his sunglasses helped him a great deal yesterday," Dombrowski said. "Who knows what would have happened if he didn't have the sunglasses on? You could see the imprint of the ball on his sunglasses — the seams."
Cabrera considered himself lucky.
"It's part of the game," he said. "I can see out of my eye."
Based on reporting by the Associated Press.
Follow us on twitter.com/foxnewslatino
Like us at facebook.com/foxnewslatino
https://www.foxnews.com/sports/cabrera-to-miss-a-week-with-broken-bone